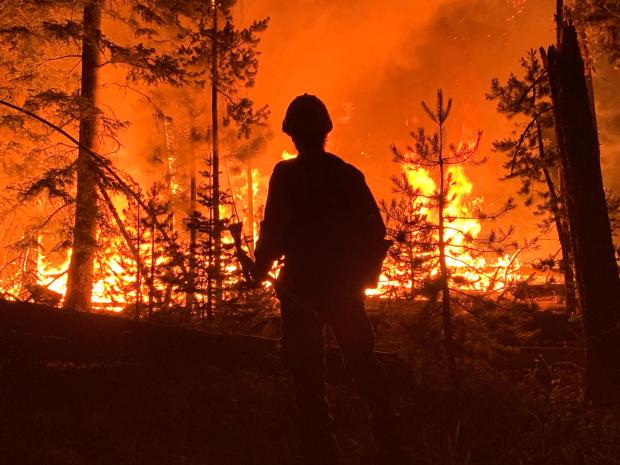 The Bootleg Fire continues to burn actively on the Fremont-Winema National Forest, approximately 11 miles northeast of the town of Sprague River. On July 19th, the Log and Bootleg Fires merged into one fire. All acreages and statistics reflect the combined fire.
Smoke from the fire is highly visible from Oregon State Highway 140, Sprague River Highway, Chiloquin and the surrounding area. Drivers should expect increased traffic in the area from fire equipment and are asked to use caution driving in the area. There is an emergency closure in place to public access/entry due to hazards and hazardous conditions created as a result of the Bootleg Fire - details are on the closures page. Level 2 and 3 evacuations are in place. 
An interactive map showing evacuation areas and the fire perimeter from the overnight IR flight is available at https://kcgis.maps.arcgis.com/apps/webappviewer/index.html?id=4bfb02b41eb7473ca95b04c3cbd1da21.
 
To sign up for Lake County emergency alerts, please visit:  https://member.everbridge.net/index/892807736726383/#/signup
To sign up for Klamath County emergency alerts, visit http://alerts.klamathcounty.org.
Fire Information Public Phone: 541-482-1331
Fire Information Media Phone: 971-727-7255
Inciweb: inciweb.nwcg.gov/incident/7609/
Facebook: www.facebook.com/BootlegFireInfo
Twitter: twitter.com/BootlegFireInfo
Youtube: www.youtube.com/channel/UCPLoRDU4JyfLonJpgl3gGjg