Inciweb information was updated: 3 hours, 21 mins ago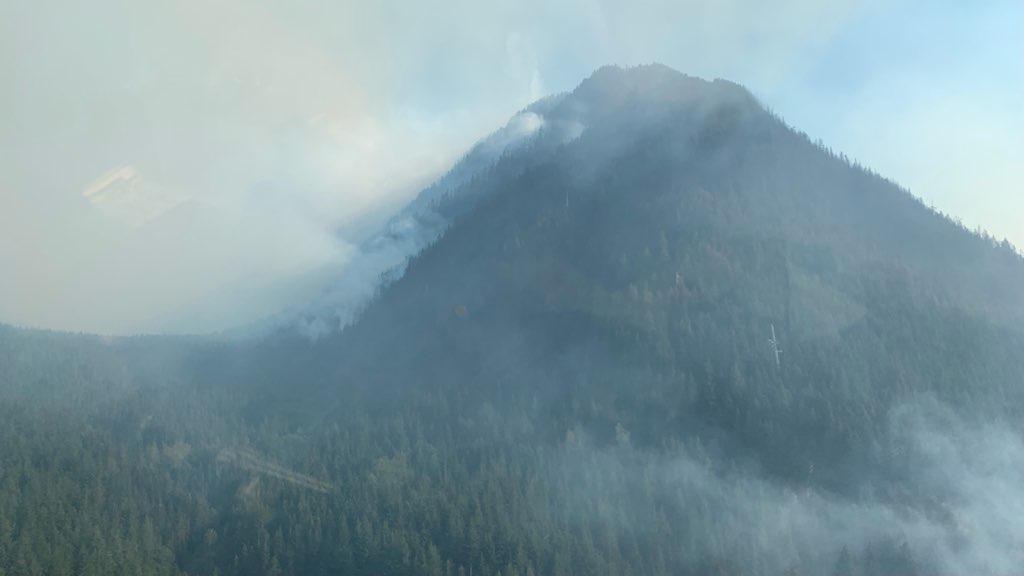 Bolt Creek Fire Update September 27, 2022
Western Washington Incident Management Team 3
Incident Commander: Kent Stanford
Estimated size: 11,355 acres Cause: Undetermined
Resources: 148 personnel – One type-2 initial attack hand crew, two hand crews, 12 engines, one water tender and 78 overhead.
US 2 CLOSED: The Washington DOT has closed US 2 again due to fire activity and falling trees along the road.
Update: A Fire Weather Watch remains in place today across the Bolt Creek Fire area, but conditions are expected to moderate today as temperatures drop and cloud cover and potential moisture moves into the area tonight and tomorrow morning. Near Skykomish, the fire continued to move along Beckler Road yesterday, and crews will continue to both mitigate hazard trees and mop up in this area today. The fire also continued to back down toward US 2 from mile marker 46 to 49, resulting in some larger, unburned pockets of vegetation burning along the road overnight. Falling trees, rocks and debris from these burning pockets forced the closure of US 2 again overnight, but evacuations in the area have not changed. The public can expect smoke in the valley and along ridgetops throughout the day again today, and potentially more visible flames both during the day and into the evening. Weather: A Fire Weather Watch is in effect today. Today will be mostly sunny with high in the 70's on ridges and 80's in the valley. Humidity will moderate to 22 to 32 percent. East winds are predicted at 3-5 MPH with gusts to 8 MPH in the morning, but will become west/southwest in the afternoon as cloud cover moves in. September 27, 2022 Morning operations briefing: https://youtu.be/Wg69J6wRUIo
Evacuation Levels: Evacuation levels changed on Sunday due to weather and increased fire activity around Skykomish.
· Level 1 (Ready): Index – no change. · Level 1 (Ready): South of U.S. 2 near Index, including Index Estates and the Lake Serene Trailhead. · Level 1 (Ready): East of Skykomish, from the Beckler River to Forest Service Road 66, north and south of U.S. 2 including Foss River Road. · No other evacuation guidance for occupied areas of Snohomish County. · Level 2 (Set): Baring and Grotto and area along U.S. 2 east to the Money Creek tunnel continues. · Level 2 (Set): Skykomish – Get set to leave on short notice. Formerly Level 1 (Ready). o Residents in the area should remain vigilant. The area remains hazardous. Conditions could change quickly, and evacuations may again become necessary. · Level 3 (Go): From west side of Money Creek tunnel to milepost 48, plus FS Road 65 (Beckler River Road).
Evacuations/ Emergency Alert Systems:
King County:https://kingcounty.gov/depts/emergency-management/alert-king-county.aspx
Snohomish County: https://snohomish-county-public-safety-hub-snoco-gis.hub.arcgis.com/pages/wildfire
Smoke: Increased smoke production is anticipated. Current information on air quality may be found at Washington Smoke Blog at https://wasmoke.blogspot.com/
Forest Closure: The Mount Baker-Snoqualmie National Forest has implemented an Emergency Closure on National Forest lands. Roads, trails, and campgrounds are closed. To read the closure in its entirety,please see: MBSNF Bolt Creek Fire Closure
A burn ban remains in effect until significant rain is received. Please refrain from burning.
Powerlines: They're Hot Until They're Not
Fire Information Phone: (360) 370-4170 Email: 2022.boltcreek@firenet.gov
Inciweb: inciweb.nwcg.gov/incident/8417 Facebook: https://www.facebook.com/boltcreekfireinfo