Hay Creek
FIRE
1,158
acres
25.8 mi
N of Whitefish, MT
Last Updated:
14 mins, 9 secs ago
Incident #:
2021-MTFNF-000668
Fire Start:
Wednesday, July 21, 2021 6:58 PM MDT
Resources:
AA 0JK COF 661 GNP MOD
Dispatch Notes:
Protection - owner: gvrd - forest service (fnf). Cnty: flathead. Resp: glacier view north resource

Primary Fire Agency
US Forest Service — Flathead National Forest
Current Weather
Fire Growth Potential
Fire Weather Forecast
Incident Overview Updated: 6 hours, 12 mins ago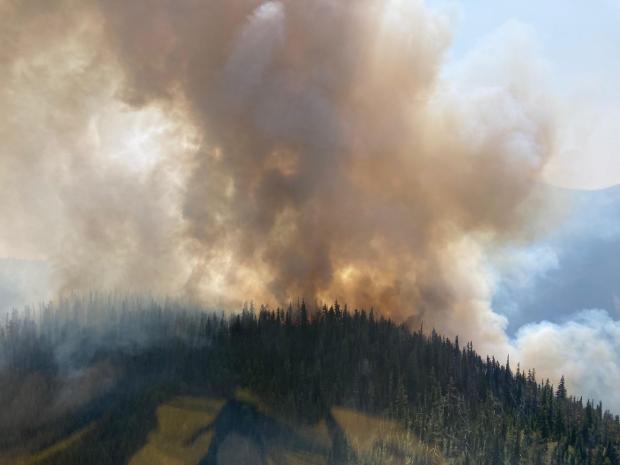 The Hay Creek Fire was reported Wednesday evening, July 21, 2021, approximately 5 miles west of Polebridge, Montana.

The fire is being managed for full suppression by a Type  3 Incident Management Team.

Area, roads, and trails closures are in effect.
 
An Evacuation Warning (pre-evacuation) is in place for some properties in the area. 
Basic Information
Date of Origin:
Wednesday, July 21, 2021 5:45 PM MDT
Location:
Approximately 4 miles west of Polebridge, Montana
Incident Commander:
Dave Poukish, Northwest Montana Interagency Type 3 Team
Coordinates:
48.778, -114.431
Current Situation
Fuels Involved:
Timber (Litter and Understory)
Incident Contact
Incident Contact
Hay Creek Fire Information
Email: 2021.haycreek@firenet.gov
Phone: 406-219-1013
Hours: Daily 8am to 8pm
Fire Unit Information
Flathead National Forest
U.S. Forest Service
650 Wolfpack Way
Kalispell, MT 59901