Buffalo
FIRE
202.0
acres
7.8 mi
ENE of Billings, MT
100%
contained
Incident #:
2021-NWCG-7687
Fire Start:
Friday, July 16, 2021 11:00 AM MDT
Current Weather
Fire Growth Potential
Fire Weather Forecast
Incident Overview Updated: 4 days ago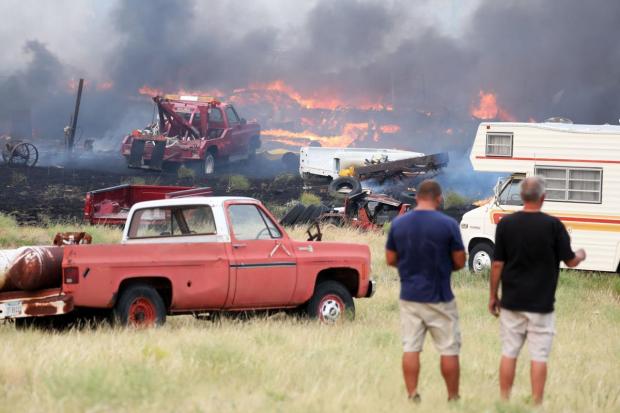 On the evening of Friday, July 16 Yellowstone County fire personnel responded to a fire south of the Pryor Creek Golf Club. An extreme wind event over night caused the fire, currently burning in rugged terrain to spread rapidly on all sides of the fire.

At 6:00 p.m. on Saturday, July 17 the County Assist Team (CAT) Type 3 team took over the fire management. The fire was mapped on 7/20 at 202 acres. The fire is now 100% contained and in patrol status. It has been turned back over to the local unit from the DNRC's County Assist Team. 
Basic Information
Date of Origin:
Friday, July 16, 2021 5:00 PM MDT
Location:
Northeast of Billings, MT near Prior Creek Golf Club
Incident Commander:
Don Pyrah, County Assist Team
Incident Description:
The Buffalo Fire Is Now In Patrol Status And Has Been Turned Back Over To The Local Unit From The Dnrc's County Assist Team.
Coordinates:
45.862, -108.306
Estimated Containment Date:
Tuesday, July 20, 2021 6:00 PM MDT
Fuels Involved:
Grass, Sage brush, small timber
Significant Events:
Storm and extreme wind
Planned Outlook
Projected Incident Activity:
Continue to hold and strengthen perimeter and mop-up 3-chains from the perimeter. Begin rehabilitation of fire lines.
Weather Synopsis
Weather Concerns:
Hot, dry conditions persist.
Incident Contact
Incident Contact
Kate Wilson
Email: dnrcat.Team@gmail.com
Phone: 4062903017
Hours: 7 am - 9 pm
Fire Unit Information
Montana Department of Natural Resources & Conservation
1539 Eleventh Ave.
Helena, MT 59601