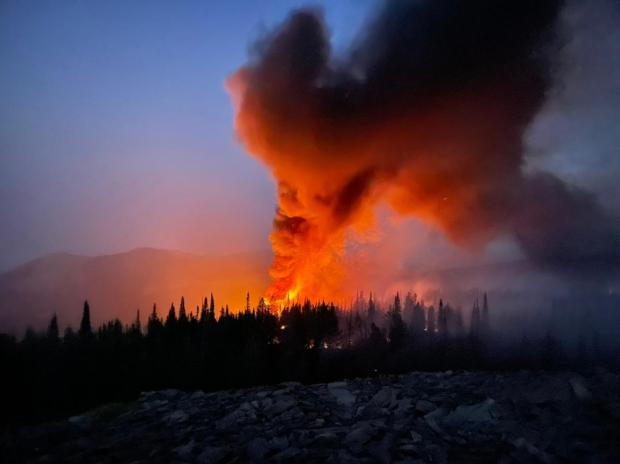 On July 21st at 6 a.m. Tony DeMasters Great Basin Team 2 took command of the Mud Lick, Iron and Haynes fires.

Information on the Haynes Fire will now be provided on the Mud Lick InciWeb page. Please refer to the Fire Information links and contacts below for updates on the Haynes Fire.

This webpage will be discontinued in the next few days.

Mud Lick Fire InciWeb Page: https://inciweb.nwcg.gov/incident/7638/


INCIDENT CONTACT:
 
Mud Lick Fire Information
Email: 2021.mudlick@firenet.gov
Phone: 208-510-8359
Hours: Daily from 7 am - 7 pm

 
HAYNES FIRE 
The lightning-caused Haynes Fire started on July 16 and is located at the headwaters of Haynes Creek on the Leadore Ranger District. 

The Salmon‐Challis National Forest has implemented Haynes Fire Emergency Road Closure, Order Number: 04‐13‐21‐008.  Road closures went into effect on July 19th for portions of Baldy Basin Road (NFSR #60152), Haynes Basin Road (NFSR #60016), K-Mountain Road (NFSR #60427), Twelve‐mile Creek Road (NFSR #60014). Roads are closed to all uses including hiking, biking, motorized use, and horse travel.  Visit the Forest's website at www.fs.usda.gov/scnf/ for more information regarding the closures.
On July 19th, the Salmon Field office of the Bureau of Land Management implemented an Emergency Road Closure for public lands in the Haynes Creek and McDevitt Creek area in Lemhi County, Idaho. The legal description of the affected public lands is Tl SN R22E Sections  I, 12, 35. Tl SN R23E Sections 1, 3, 4, 7-9, 12, 31. Tl9N R22E Sections 24-26, 35. Tl 9N R23E Sections 1-4, 10-16, 19, 21-33, 35, 36. Tl9N, R24E Sections 31, 32. T20N R23E Sections 1-3, 25, 35, 36. The Temporary Closure (or Restriction) is necessary to provide protection to visitors from the current fire safety hazards, wildfire activity and fire suppression activity.  Contact the BLM at (208) 756-5410 or BLM ID SalmonOffice@bhn.gov