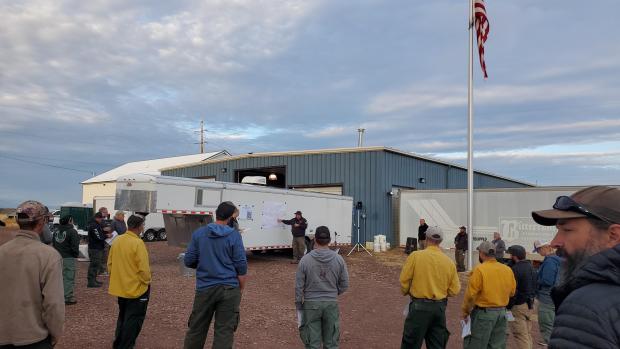 For Immediate Release:  
Transition of Command to B-D
Aug 4, 2021 
Location: The fire is located 11 miles NE of Philipsburg  
Cause: Lightning
Percent Contained: 0%
Date Reported:  July 17, 2021
Size: 212 acres  
Fuel: Timber and Brush
Philipsburg, MT – Gusty ridgetop winds accompanied by isolated storms and poor relative humidity recovery over the next 24 hours may challenge resources, however, Thursday should bring a welcome cloud cover and increase in relative humidity that may help progress suppression tactics. An infrared flight this morning recorded heat signatures on the northwest edge of the fire, resources are remaining vigilant. Dozer line construction continues to serve as an effective suppression tactic. Crews have completed repair on a bridge in Finley Basin, and continue to work on hazard tree removal for safe access to and from the fire. As of this morning, Incident Command has transitioned from Zach Saavedra to Jerod Russell and will continue to be managed as a Type Three Incident with full suppression tactics by utilizing a combination of point protection, confine/contain, and monitoring.
The area surrounding the Goat Fire is under a closure order, if you don't need to access the area PLEASE DON'T!  Due to safety concerns, each time the public accesses the area firefighting operations must pause for both public and firefighter safety thereby delaying the suppression of the fire. 
Beaverhead - Deerlodge National Forest Goat Fire Closure Order: https://www.fs.usda.gov/Internet/FSE_DOCUMENTS/fseprd935606.pdf 
The 212-acre Goat Fire continues to challenge firefighters due to its steep, rugged terrain and difficult access.  
The fire started July 17, by lightning within the Flint Mountain Range, and was detected through satellite imagery.  
Additional Fire Information and Links:  
Smoke: Northwesterly flow will continue to push smoke from Canada and Idaho over the area throughout the week, leaving air quality conditions at a moderate to unhealthy level. An Air Quality Alert is still in effect, and significant improvements are not expected in the near future. Wildfire smoke information can be found at - https://svc.mt.gov/deq/todaysair/smokemostrecentupdate.aspx 
Fire Restrictions: Stage II restrictions are in effect on the Beaverhead Deerlodge National Forest - https://www.fs.usda.gov/bdnf 
Goat Fire Public Information Phone: (406) 290-3603 
Goat Fire Email: 2021.goat@firenet.gov 
Goat Fire Information Facebook Page: https://www.facebook.com/goatfireinfo  
InciWeb: https://inciweb.nwcg.gov/incident/7694/