American Fork
FIRE
5,806
acres
38.6 mi
NNE of Livingston, MT
10%
contained
Incident #:
2021-MTHLF-005087
Fire Start:
Saturday, July 17, 2021 7:24 AM MDT

Primary Fire Agency
US Forest Service — Helena - Lewis and Clark National Forest
Current Weather
Fire Growth Potential
Fire Weather Forecast
Incident Overview Updated: 1 hour, 52 mins ago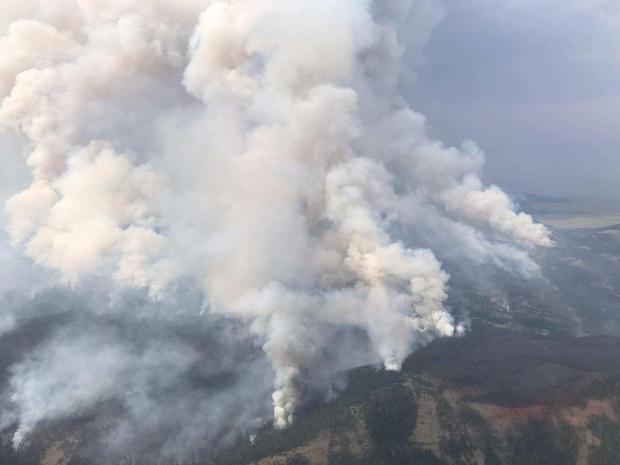 The lightning-caused American Fork Fire started on July 17, 2021 in the northeast Crazy Mountains, 24 miles southwest of Harlowtown. It is one of several wildfires burning on the White Sulphur Springs Ranger District of the Helena-Lewis & Clark National Forest.

The Southern Area Incident Management Gold Team, led by Incident Commander Debbie Beard, assumed command of the fire on July 23, 2021. Multiple resources are responding to the fire. Firefighters continue suppression and firing operations towards the 2017 Blacktail Fire footprint, holding the fireline along the east. Aerial resources are picking up spot fires and also aiding in suppression efforts. Crews are also working on structure protection to the south of the fire.

Hot and dry conditions continue across the area with near red flag conditions. Active to extreme fire behavior is expected, with substantial growth possible.
 
Area closures, including trail closures, are in place. Please see the map for more details.

Advisories:
Do not fly drones over the fire. If you fly, we can't.
Please respect road closure. Traffic on closed roads creates safety hazards for firefighters and emergency vehicles.
Firefighting resources are extremely limited. It is critically important that we all do our part to prevent additional fire starts by following all campfire restrictions and fire-related closures.
The Helena-Lewis and Clark National Forest and the Custer Gallatin National Forest are under Stage 1 Fire Restrictions, which includes the use of charcoal grills. The Custer Gallatin also has restricted campfires in all locations. 
Visit www.MTFireInfo.org for statewide fire restrictions information.

Please call 911 to report a wildfire.

Follow up on Facebook @HLCNF for the latest updates.
Basic Information
Date of Origin:
Saturday, July 17, 2021 12:00 AM MDT
Location:
NE Crazy Mountains, Helena-Lewis and Clark National Forest & Custer Gallatin National Forests near the South fork of the American Fork
Incident Commander:
Debbie Beard, ICT2
Incident Description:
24 Miles Southwest Of Harlowtown, Montana
Coordinates:
46.165, -110.248
Current Situation
Estimated Containment Date:
Friday, October 15, 2021 12:00 AM MDT
Fuels Involved:
Fuels involved are primarily FM 2 (grass with timber litter) and FM 10 timber (heavy conifer with significant dead and down).
Significant Events:
The fire is actively spreading southwest into the Shields Creek drainage.
Planned Outlook
Planned Actions:
Continue with suppression operations along the east and south boundary of the fire towards the Blacktail fire scar from 2017 as conditions allow. Hold constructed line along eastern perimeter continue to use aviation resource to pick up spots and aid in suppression on the north, south, and west. Long term planning with the CGF. Preparation for structure protection for structures located south of the fire.
Projected Incident Activity:
Red flag warning. RH's expected to go down into the low teens or even single digits. Continued growth is expected. Active to extreme fire behavior possible.
Weather Synopsis
Weather Concerns:
Hot and dry weather occurred over the fire today with generally upslope and upvalley winds around 8 to 12 mph. A Red Flag Warning is in effect for the fire Sunday afternoon and evening as temperatures steadily rise, RHs continue to bottom out near 12 percent, and westerly winds increase to 15 to 25 mph. Some moisture may move back into the region by the middle of next week.
Incident Contact
Incident Contact
Fire Information
Phone: 406-272-6349
Hours: M-F 8 a.m. - 8 p.m.
Fire Unit Information
Helena - Lewis and Clark National Forest
U.S. Forest Service
2880 Skyway Drive
Helena, MT 59602