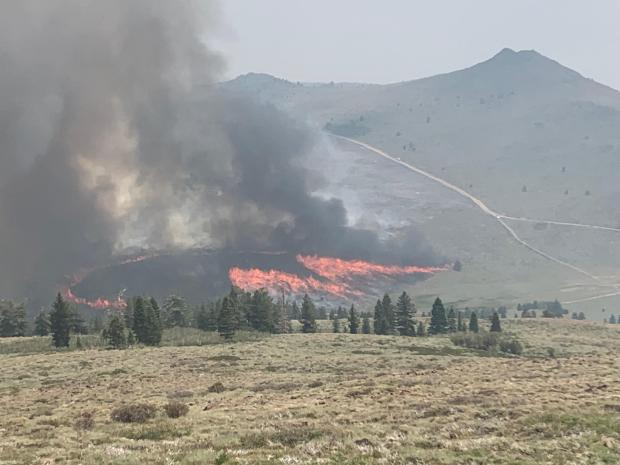 The Tamarack Fire started as a lightning strike in the Mokelumne Wilderness on a rocky ridgetop with sparse fuels and natural barriers to fire spread. Friday, July 16 high winds caused rapid downslope fire spread. With this change in the fire, resources were quickly dispatched to the site. Additional resources were ordered, including very Large Air Tankers (VLAT), Single Engine Airtankers (SEATS) and helicopters. 
The Type 2 Great Basin Incident Management Team #3 assumed command of the fire on Sunday, July 18 at 6 a.m. transitioning to the Rocky Mountain Type 1 Incident Management Team on Tuesday, July 20. Many Federal, State, and Local government agencies as well as organizations and businesses are cooperating to make progress on the fire.
This is a full suppression fire. Public and Firefighter safety is the number one priority. Minimizing impacts to local communities, private property and structures, natural resources, highway corridors, and recreation improvements are key considerations.  Our intent is to keep you fully informed on the fire's activities and our suppression efforts as the incident progresses.
 The Rocky Mountain Type 1 Incident Management Team has produced an interactive map so the public can see the Tamarack Fire location in relation to their address.  Please click here Tamarack Fire 2021 Interactive Map or use this url https://bit.ly/TamarackInteractiveMap

For the latest information on road closures, visit:   QuickMap (ca.gov) and https://roads.dot.ca.gov/
 
Evacuation related information can be found by clicking on the Announcements section above or below.  
Additional information can be found from these sources:
Tamarack Fire Information Facebook: https://www.facebook.com/tamarackfireinfo
Twitter: @Tamarack_Fire
Videos of the Daily Operational Briefings for the public and future community meetings will be posted on the Tamarack Wildfire Official Information YouTubewebsite at: https://bit.ly/TamarackVideo
If using a cell phone to view this page, you can click on the words directly below to view those topics. 
Photos                     Maps                    News                   Closures                   Announcements                    Videos                    YouTube