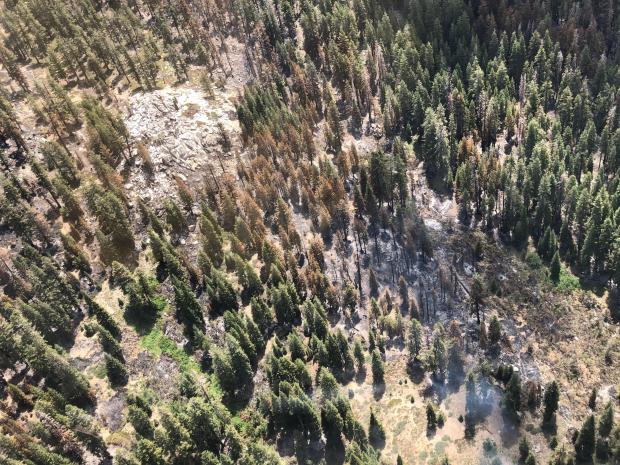 Discovered on July 10, 2021, the lightning-caused Lost Fire is burning within the Sequoia-Kings Canyon Wilderness in Kings Canyon National Park. The fire currently poses no threats to life or property, and there are no closures due to the fire at this time. This is a full-suppression fire. 
In order to mitigate smoke potential impacts throughout the remainder of the summer, and to minimize resource damage due to critically low fuel moistures, the fire are being suppressed. The Lost Fire, located in remote, rugged terrain, south of the Middle Fork of the Kings River in the Slide Bluff area, fire personnel are utilizing a confine and contain strategy while also looking for opportunities for both direct and indirect containment actions. 
Updates:
July 18, 2021: Containment is now 70%. There were some winds that influenced the fire yesterday with some growth on both the south and north flanks.  Fire behavior remained on the ground burning in the surface fuels.  The entire perimeter of the fire was walked and mapped today. Updated acreage is 106 acres.        

July 19. 2021 0700: Fire had no growth overnight and received a little rain. Crews moved to their safety zone due to thunderstorms, and will resume operations this morning. Containment and size remain the same.  

July 19, 2021 1800:  Fire has been 100% contained.

July: 20, 2021 Fire is mapped at 101 acres. 

July: 24, 2021 Fire is now in monitor status with fire crews checking as needed.