Elements
FIRE
1,343
acres
69.6 mi
SE of Las Vegas, NV
100%
contained
Last Updated:
13 mins, 41 secs ago
Incident #:
2021-AZCRD-001176
Fire Start:
Sunday, July 11, 2021 12:30 PM MST
Dispatch Notes:
Contain: 07/17/21 1125

Primary Fire Agency
Bureau of Land Management — Colorado River District
Current Weather
Fire Growth Potential
Fire Weather Forecast
Incident Overview Updated: 4 days ago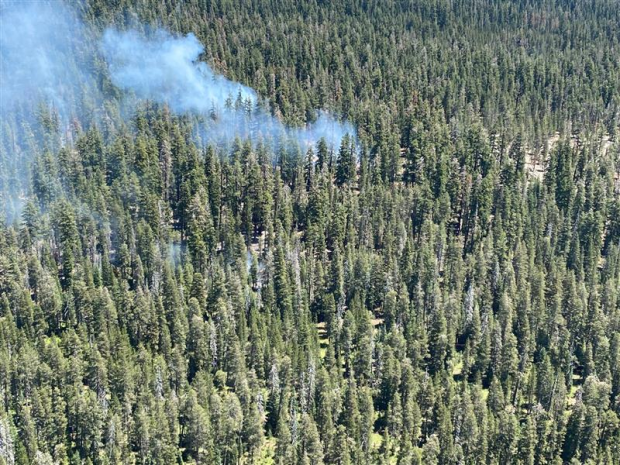 The Elements Fire was discovered on July 11 the result of area thunderstorms on July 10. The fire is located North of Kingman, AZ in the Cerbat Mountains approximately 6 miles East of Chloride, AZ. The fire is in rough and rugged terrain with very limited access by resources on the ground. The gusty and erratic winds from area thunderstorms, which have not provided significant moisture, have contributed to the fire's rapid growth. 

Crews continue to make progress on containment. There was minimal new fire activity on Tuesday. The status for Vock Canyon residents on the south side of the fire area has been downgraded from "SET" to "READY" 

Fire manager's and the Incident Commander are working closely with Mohave County Emergency Management and Mohave County Sheriff's Office. 
 
Residents are encouraged to sign up for Mohave County's Emergency Notification System "Code Red": https://public.coderedweb.com/CNE/en-US/BF06DA57F62C 
 
More information on Arizona's Ready-Set-Go program and ways to become prepared are available at:  https://ein.az.gov/ready-set-go
Social Media Links: 
Bureau of Land Management Arizona - Facebook
Bureau of Land Management Arizona Fire - Twitter
Mohave County Sheriff's - Facebook

Basic Information
Location:
6 mi E/NE of Chloride, AZ
Incident Commander:
Shultz ICT3
Coordinates:
35.451, -114.083
Current Situation
Fuels Involved:
desert grass and brush
Significant Events:
Crews continue to make progress. Minimal new fire activity today.
Planned Outlook
Planned Actions:
Crews will periodically check for hotspots
Remarks:
As of Tuesday, July 20, 2021 the fire is 100% contained and all resources have been demobilized and the fire is currently in patrol status
Weather Synopsis
Weather Concerns:
Area thunderstorm activity and outflow winds.
Incident Contact
Incident Contact
Elements Fire Information
Phone: 928-889-1057
Hours: 8am-6pm variable based on activity
Fire Unit Information
Colorado River District Office
Bureau of Land Management
1785 Kiowa Ave
Lake Havasu City, AZ 86403