Morgan Creek
FIRE
7,505
acres
11.5 mi
SE of Columbine, CO
18%
contained
Incident #:
2021-COMRF-000260
Fire Start:
Friday, July 9, 2021 2:11 PM MDT
Dispatch Notes:
Wy-mrf-260iqcs: 554939

Primary Fire Agency
US Forest Service — Medicine Bow-Routt National Forests (Thunder Basin National Grassland)
Current Weather
Fire Growth Potential
Fire Weather Forecast
Incident Overview Updated: 21 hours, 47 mins ago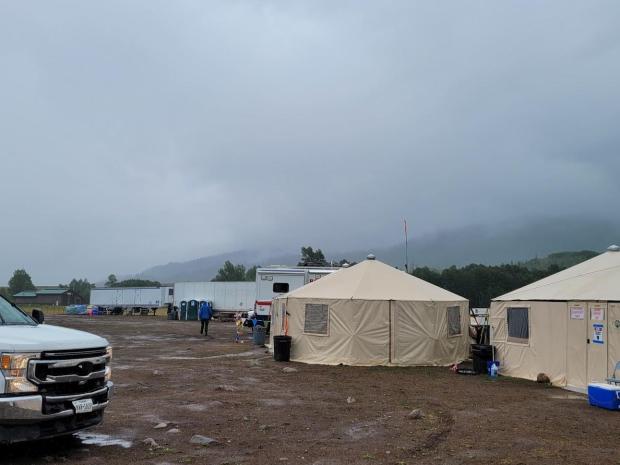 The Morgan Creek Fire was reported on July 9 on the Routt National Forest 15 miles north of Steamboat Springs, Colorado. The fire started south of the Hinman Campground and spread over the subsequent days south-southeast towards and into the Mt. Zirkel Wilderness. Lightning was determined to be the cause of the fire. 
 
Both air and ground firefighting resources have steadily increased in number in recent days in an effort to contain the fire. 

A forest area closure remains in effect as well as pre-evacuation orders issued by the Routt County Sheriff on July 9 for residents in the immediate area of the fire. 

On July 27, command of the Morgan Creek Fire transitioned from the Rocky Mountain Team Black Incident Management Team to a Type 3 Incident Management Organization. The Morgan Creek Fire remains a full suppression fire. 
Basic Information
Date of Origin:
Friday, July 9, 2021 1:00 PM MDT
Location:
15 miles North of Steamboat Springs
Incident Commander:
Jeramy Dietz, Karsten Milek (T), Type 3 Incident Management Organization
Coordinates:
40.718, -106.829
Current Situation
Fuels Involved:
Timber (litter and understory), Brush (2 feet)
Significant Events:
Minimal, Creeping, smoldering
Planned Outlook
Planned Actions:
Continue mop-up and patrol the western and southern flanks working towards the wilderness and previous fire footprints from the 2020 Middle fork, and the 2002 Burn Ridge fires. On the northern flank, continue indirect line construction improvements to protect homes and infrastructure.
Projected Incident Activity:
12/24/48 hours:
Fire continues to hold on the southwest flank above indirect line near Big Creek Drainage.
Isolated showers may continue overnight. Potential decrease in fire activity with cooler conditions. Warming and drying conditions continue. Thunderstorms will be isolated in the afternoon. Continued movement into Mt Zirkel Wilderness area on the northeast flank.
Weather Synopsis
Weather Concerns:
Ridge of high pressure becomes established across the Great Basin resulting in dry northwest flow over the fire area on Wednesday. A few scattered showers may develop over higher terrain after noon, however storms will quickly drift east of the Divide. High pressure slides overhead on Thursday which leaves this the driest day through the short term period. Then, by Friday, a disturbance drifting to our north will tighten the pressure gradient overhead. Dry conditions in place will mix strong winds aloft down to the surface which will result in Fire Weather Concerns redeveloping near the burn area.

Incident Contact
Incident Contact
Fire Information
Phone: 720-689-3434
Hours: Daily 8:00 am - 5:00 pm
Fire Unit Information
Routt National Forest
U.S. Forest Service
925 Weiss Dr
Steamboat Springs, CO 80487