Lick Creek
FIRE
80,392
acres
19.2 mi
WSW of Clarkston, WA
90%
contained
Last Updated:
28 mins, 42 secs ago
Incident #:
2021-WAUMF-000658
Fire Start:
Wednesday, July 7, 2021 9:18 AM PDT
Dispatch Notes:
Lightning caused, resources responded 7/7

Primary Fire Agency
US Forest Service — Umatilla National Forest
Current Weather
Fire Growth Potential
Fire Weather Forecast
Incident Overview Updated: 4 hours, 54 mins ago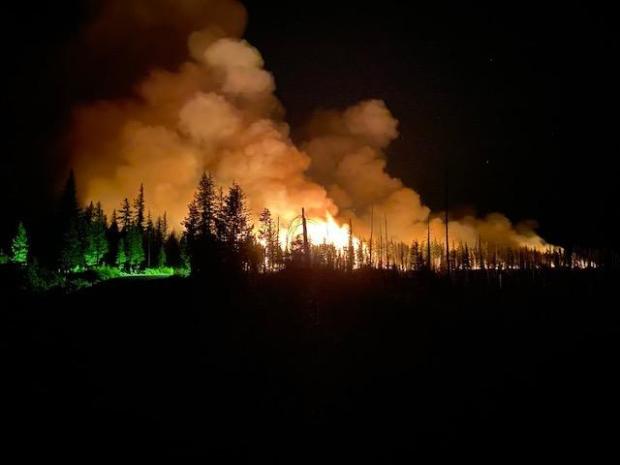 Lightning ignited several fires southwest of Asotin, WA on July 7. The Lick Creek Fire and the Dry Gulch Fire burned together on July 8 and are now being fought as one fire, called the Lick Creek fire.
 
A Type 1 Incident Management Team, Pacific Northwest Team 3, is managing the incident.
Level 1 and 2 evacuations are in place and all Forest Service lands, roads, and trails within the Umatilla National Forest are closed.
Basic Information
Date of Origin:
Wednesday, July 7, 2021 8:00 AM PDT
Location:
Dry Lick Creek Area, 15 miles southeast of Pomeroy, WA.
Incident Commander:
Randy Johnson, Pacific Northwest Team 3
Coordinates:
46.262, -117.416
Current Situation
Estimated Containment Date:
Wednesday, September 1, 2021 12:00 AM PDT
Fuels Involved:
Timber with understory: Conifer with abundant brush or small trees under them, making it difficult to walk through. Will burn readily with abundant torching and spotting when dry; it doesn't need much wind to spread efficiently, generally found on north aspects. Heavy fuels contribute to rollout. Cured grass, may be mixed with widely scattered timber or shrubs. Cured grasses will support rapid fire spread.
Significant Events:
Moderate: Creeping, Isolated torching, Smoldering
Planned Outlook
Planned Actions:
Patrol, mop up and secure fire line in Div A/T/W/D/H. Suppression Repair.
Projected Incident Activity:
Limited movement in the timber litter primarily south in the unburned islands. Surface fire comprised of backing, flanking creeping, and smoldering. After the inversion lifts or smoke clears anticipate increased fire activity with single and group torching, crown runs possible with spotting up to .10 mile.

Remarks:
Increased acreage is due to interior islands continuing to burn out. PNW 3 continues to complete separate 209's for both the Lick Creek Fire and the Green Ridge Fire.
Weather Synopsis
Weather Concerns:
Light winds and warmer temperatures were common over the Lick Creek Fire Saturday courtesy of high pressure strengthening in the upper levels. It was a smoky start to the day with smoke trapped under the morning inversion. Smoke thinned in the afternoon as the inversion lifted and light northerly winds developed. Wind gusts up to 15 mph were observed on the Clearwater Lookout RAWS. Temperatures along the ridgetops warmed back into the upper 70s and lower 80s as humidity values dipped into the upper teens.
Incident Contact
Incident Contact
Fire Information
Email: 2021.lickcreek@firenet.gov
Phone: 509-780-6238
Hours: 7:00 am - 9:00 pm
Fire Unit Information
Umatilla National Forest
U.S. Forest Service
72510 Coyote Road
Pendleton, OR 97801
Dispatch Contact
Blue Mountain Interagency Dispatch Center
| La Grande, OR
541-963-7171
http://bmidc.org