Juniper
FIRE
1,011
acres
21.8 mi
NNW of Alturas, CA
100%
contained
Last Updated:
32 mins, 55 secs ago
Incident #:
2021-CAMDF-000781
Fire Start:
Monday, July 5, 2021 3:39 PM PDT
Dispatch Notes:
Contain: 07/12/21 1722 | Control: 07/20/21 1740

Primary Fire Agency
US Forest Service — Modoc National Forest
Current Weather
Fire Growth Potential
Fire Weather Forecast
Incident Overview Updated: 3 weeks ago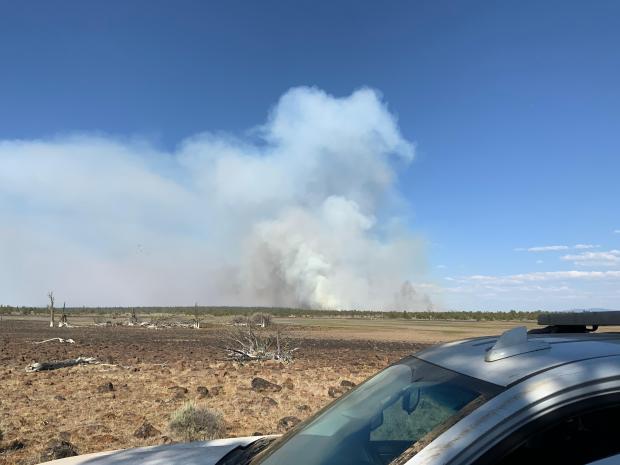 The Juniper Fire is holding at 1,011 acres and 100% contained.
Fire behavior remains minimal, with heavy fuels burning and smoldering within the fire's interior. Resources are working to mop up 100 feet inside of all lines.

Additional updates will be provided on this incident if fire activity increases.

Red Flag warnings and Heat advisories continue. Learn more at https://www.weather.gov/mfr/.
Please avoid the area between South Mountain and Green Tank reservoirs and be aware of increased fire-suppression traffic on the Crowder and South Main roads, also known as Forest Road 73.

Please do not risk starting additional fires. Maintain equipment, vehicles and trailers appropriately, avoid risky burning practices and adhere to fire-safety restrictions. Learn more at https://go.usa.gov/x6V9u. 
Basic Information
Date of Origin:
Monday, July 5, 2021 12:00 AM PDT
Location:
~17 miles West of Davis Creek near South Mountain Reservoir
Incident Commander:
Type 4 local organization
Coordinates:
41.819, -120.651
Fuels Involved:
Grass, sage and scattered juniper
Weather Synopsis
Weather Concerns:
Continuing heat warnings for high winds and low humidity
Incident Contact
Incident Contact
Modoc Fire Info
Email: sm.fs.modoc_info@usda.gov
Phone: 530-233-8847
Hours: 8-4, M-F
Fire Unit Information
Modoc National Forest
U.S. Forest Service
225 W. 8th St
Alturas, CA 96101