Goose
FIRE
7,417
acres
42.2 mi
SSE of Virginia City, MT
70%
contained
Last Updated:
41 mins, 57 secs ago
Incident #:
2021-MTBDF-006227
Fire Start:
Thursday, July 1, 2021 11:10 AM MDT
Resources:
BARNES J HAHNKAMP NELSON SAMPSON WILLOUGHBY WITTENBERG
Dispatch Notes:
Type 2 sampsons team ; 400 acres, actively burning

Primary Fire Agency
US Forest Service — Beaverhead-Deerlodge National Forest
Current Weather
Fire Growth Potential
Fire Weather Forecast
Incident Overview Updated: 9 hours, 55 mins ago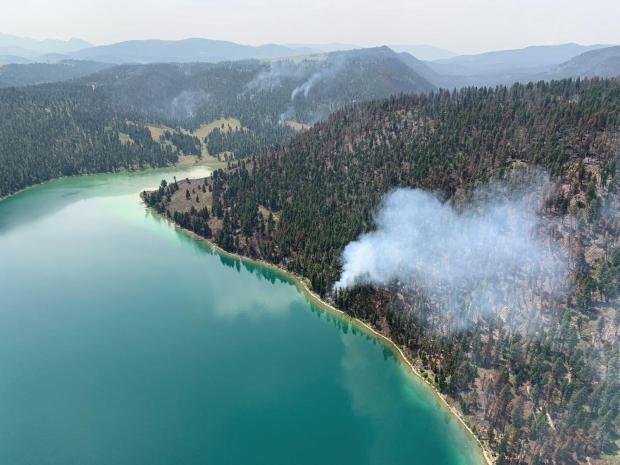 The Goose Fire started on July 1, 2021 32 miles SSE of Ennis, MT near Hoodoo Pass. Initial attack forces responded to suppress the fire, initially located in a 250-acre rock slide area, inaccessible to crews. On July 9, the fire moved eastward into the Lost Spring drainage south of Cliff Lake and north of Hidden Lake and up onto the Hidden Lake Plateau. Several air tankers dropped retardant to slow further progression. Joe Sampson's Type 2 Northern Rockies Wildland Fire Management Team 5 assumed command of the fire at 6 am MDT on July 10. 
Basic Information
Date of Origin:
Thursday, July 1, 2021 10:10 AM MDT
Location:
32 miles SSE of Ennis, MT near Hoodoo Pass
Incident Commander:
Joe Sampson, Northern Rockies Team 5
Coordinates:
44.733, -111.6
Current Situation
Estimated Containment Date:
Wednesday, October 13, 2021 12:00 AM MDT
Fuels Involved:
Timber (litter and understory)
Timber (grass and understory)
Brush (2 feet)
Significant Events:
Moderate - Flanking, backing, group torching
Planned Outlook
Planned Actions:
Mop up and secure lines, keeping the fire north of Brimstone Trail #8388; begin suppression repair.
Projected Incident Activity:
Active fire behavior during the longer burning period. Heavy concentration of fuel continue to
hold heat and hinder mop up. Backing, flanking, and group torching will be observed on the
West end of the fire.
Weather Synopsis
Weather Concerns:
A dry airmass will produce humidity minimums in the teens and poor overnight recoveries through Monday. Winds will be light through the period with a few stronger gusts on Sunday over the ridgetops. Smoke from regional fires is causing some smoke shading and keeping temperatures in the lower 80s.
Incident Contact
Incident Contact
Goose Fire Information
Email: 2021.goose@firenet.gov
Phone: 406-200-8980
Hours: M-F 8-8p SS 8-8p
Fire Unit Information
Beaverhead-Deerlodge National Forest
U.S. Forest Service
420 Barrett St
Dillon, MT 59725