Tennant
FIRE
10,580
acres
37.8 mi
SSW of Klamath Falls, OR
100%
contained
Incident #:
2021-NWCG-7584
Fire Start:
Monday, June 28, 2021 9:00 AM PDT
Current Weather
Fire Growth Potential
Fire Weather Forecast
Incident Overview Updated: 2 weeks ago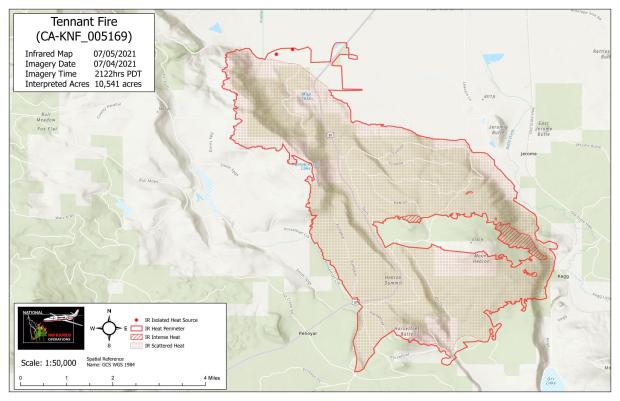 YREKA, Calif, July, 10, 2021- As of 6 A.M. July 10th, the Tennant Fire has burned 10,580 acres and is 95% contained. The Tennant Fire continues to show minimal fire activity, primarily burning within the 2009 Tennant Fire footprint. Firefighting resources have been assigned to isolate the areas of heat remaining and extinguish them. Due to the current heatwave and critically dry fuels, fire managers are anticipating some flare-ups within the interior of the fire, but they should not pose a threat to the control line. This morning, July 10th, 2021, the Type 2 CA Incident Management Team 15 transferred command of the Tennant Fire back to the Klamath National Forest Type 3 Incident Management Team due to the increase in the containment of the fire. An area of high pressure has produced another heat wave this weekend with near triple-digit temperatures possible. A very dry and unstable air mass has settled over the incident with single digit humidities. Poor overnight humidity recoveries are expected. After morning terrain driven flows, afternoon westerly breezes will materialize and persist through the early evening. Area closures remain in effect for National Forest lands surrounding the Tennant Fire. The cause of the Tennant Fire is under investigation. Fire information can also be found on Facebook @KlamathNF, Twitter @Klamath_NF, and InciWeb: https://inciweb.nwcg.gov/incident/7584/
Basic Information
Cause:
Under Investigation
Date of Origin:
Monday, June 28, 2021 4:00 PM PDT
Location:
Intersection of HWY 97 and Tennant Road, approximately 3 miles NW of Bray, CA
Coordinates:
41.665, -122.039
Estimated Containment Date:
Saturday, July 31, 2021 12:00 AM PDT
Fuels Involved:
Timber (Litter and Understory), Brush (2 feet).
On the east side of the fire the fuels are dominated by grass, sage, and juniper trees. On the upper elevation of the westside it is predominant timber fuel type of Ponderosa pine.
Planned Outlook
Planned Actions:
Mop up effort continues in areas of the fire. Suppression repair operations continue in all divisions. Back haul of equipment and supplies as needed.

Projected Incident Activity:
Minimal Fire Behavior
Incident Contact
Incident Contact
Fire Information
Email: 2021.tennant@firenet.gov
Phone: 530-453-9509
Hours: Sun-Sat 7am - 8pm
Fire Unit Information
Klamath National Forest
U.S. Forest Service
1711 S. Main St
Yreka, CA 96097