Dairy
FIRE
165.0
acres
8.3 mi
SE of Red Bluff, CA
100%
contained
Incident #:
2021-NWCG-7546
Fire Start:
Tuesday, June 15, 2021 8:30 AM PDT
Current Weather
Fire Growth Potential
Fire Weather Forecast
Incident Overview Updated: 1 month ago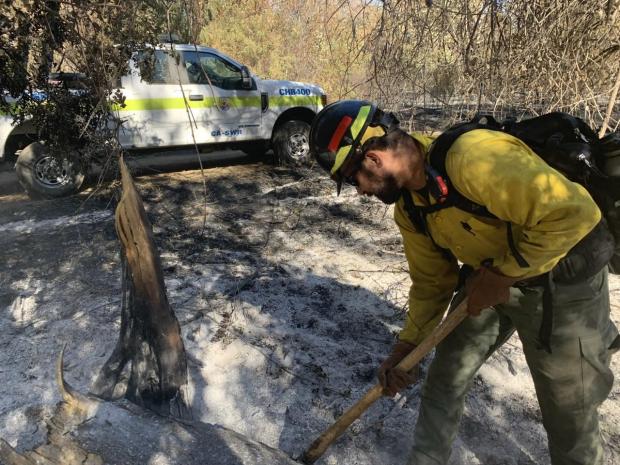 The Dairy Fire, located south of Red Bluff adjacent to the Sacramento River, started on June 15, 2021 and is now 100% contained. The fire burned approximately 163 acres of the La Barranca and Mooney units of the Sacramento River National Wildlife Refuge, primarily through remnant riparian forests and a small piece of habitat that had recently been restored. Firefighters from the Sacramento National Wildlife Refuge Complex, U.S. Forest Service, and CalFire  worked through the night and held the fire at 165 acres. Firefighters from the refuge and USFS continued to work in hot and dry conditions securing the perimeter and extinguishing hot spots, preventing the fire from crossing the containment lines during the high heat and north winds. Wildfire in these remnant forests is rare, the current hot and dry conditions in a typically wet habitat underscores the importance of fire safety in and around these dry forest habitats.
Basic Information
Date of Origin:
Tuesday, June 15, 2021 3:30 PM PDT
Location:
Sacramento River National Wildlife Refuge
Incident Commander:
Jose Palacios and Ben Wright (T), U.S. Fish and Wildlife Service
Coordinates:
40.106, -122.137
Current Situation
Estimated Containment Date:
Wednesday, June 23, 2021 8:00 AM PDT
Fuels Involved:
Timber (litter and understory), tall brush and grass
Significant Events:
Minimal fire behavior with smoldering
Planned Outlook
Planned Actions:
Firefighters continue to monitor fire perimeter
Projected Incident Activity:
No additional acres expected
Incident Contact
Incident Contact
Pam Bierce
Email: pamela_bierce@fws.gov
Phone: 9164146542
Fire Unit Information
Sacramento National Wildlife Refuge
Fish and Wildlife Service
752 County Road 99W Willows California 95988
Willows, CA 95988