Muddy Slide
FIRE
4,093
acres
23.2 mi
S of Steamboat Springs, CO
70%
contained
Last Updated:
30 mins, 15 secs ago
Incident #:
2021-COMRF-000195
Fire Start:
Sunday, June 20, 2021 4:20 PM MDT
Dispatch Notes:
Wy-mrf-195iqcs: 549156

Primary Fire Agency
US Forest Service — Medicine Bow-Routt National Forests (Thunder Basin National Grassland)
Current Weather
Fire Growth Potential
Fire Weather Forecast
Incident Overview Updated: 2 days ago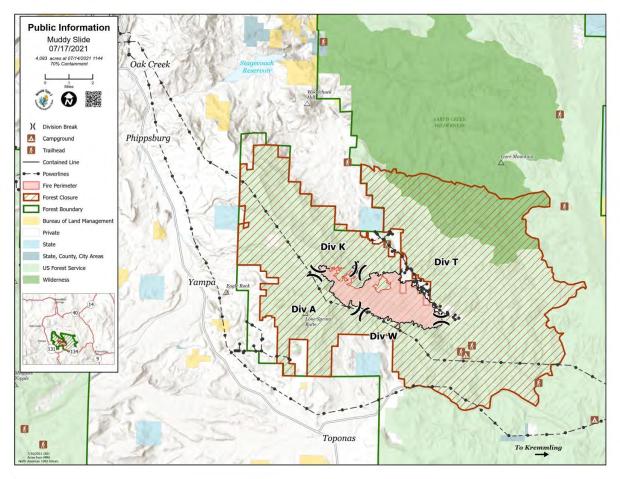 Muddy Slide Fire Update 
Sunday, July 25 2021
The Muddy Slide Fire remains 4,093 acres and 70% contained. There are 60 personnel assigned to the incident. Crews will continue patrolling looking for any remaining pockets of heat. The fire continues to smolder within its existing footprint with limited potential for spread. Drift smoke from other fires north and west of Colorado kept skies hazy across the region. High pressure will strengthen over the area today, resulting in mostly sunny skies with little cloud cover. Temperatures will trend warmer today - into the low 80s - and relative humidity will lower to the high teens. Winds will be light and variable in the morning, increasing to 7-10 mph in the afternoon.
The Muddy Slide Fire started on June 20, 2021. Rocky Mountain Area Team Black assumed command of the Muddy Slide Fire on Sunday July 18.  
Basic Information
Date of Origin:
Sunday, June 20, 2021 3:00 PM MDT
Location:
20 miles south of Steamboat Springs, Colorado
Incident Commander:
Craig Brown, Type IV IC
Coordinates:
40.143, -106.798
Current Situation
Fuels Involved:
Timber: Subalpine fir, Engelmann spruce, and beetle kill lodgepole pine with jackpots of heavy dead/down fuels and standing snags. Aspen stands occur in drainages and wet meadows. The fuels transition to grass, sagebrush in the valleys and on southern aspects.

Significant Events:
Minimal
Remarks:
Area, road, and trail closures remain in effect.
Incident Contact
Incident Contact
Fire Information
Phone: 406-233-9753
Hours: Daily 8:00 am - 5:00 pm
Fire Unit Information
Routt National Forest
U.S. Forest Service
925 Weiss Dr
Steamboat Springs, CO 80487