Cutoff
FIRE
1,288
acres
14.4 mi
ENE of Klamath Falls, OR
96%
contained
Last Updated:
39 mins, 8 secs ago
Incident #:
2021-OR981S-000215
Fire Start:
Saturday, June 19, 2021 2:29 PM PDT
Dispatch Notes:
Or-981slast checked: 07/26/2021iqcs#548984 | Contain: 06/30/21 1859

Primary Fire Agency
Oregon Department of Forestry — Klamath Unit
Current Weather
Fire Growth Potential
Fire Weather Forecast
Incident Overview Updated: 1 month ago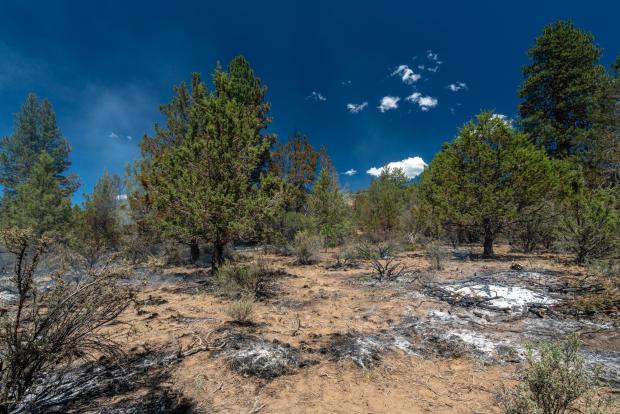 The Cutoff Fire is currently burning on private, Fremont-Winema National Forest, and BLM protected land approximately 6 miles north of Bonanza. The fire was reported at 1:30 p.m. on June 19th.  Oregon Department of Forestry Incident Management Team 1 took command at the end of the day shift on June 20th. Containment reached 93% by 6/27 and ODF Team 1 transitioned the fire back to the local ODF District and federal partners.
Basic Information
Cause:
Under Investigation
Date of Origin:
Saturday, June 19, 2021 1:29 PM PDT
Location:
6 miles north of Bonanza
Incident Commander:
Oregon Department of Forestry, Fremont-Winema National Forest, BLM
Coordinates:
42.285, -121.402
Current Situation
Estimated Containment Date:
Tuesday, June 29, 2021 12:00 AM PDT
Fuels Involved:
Timber, brush, and short grass. Juniper, grass and sagebrush predominate, with pockets of ponderosa pine.
Significant Events:
Minimal and smoldering

The fire behavior will be isolated to stump holes and heavier fuels until they burn out or are extinguished. There is the potential for an occasional flare up interior in areas of pretreated fuels or unburned fuels. Any deep or capped heat will have an opportunity to show itself.
Planned Outlook
Planned Actions:
Grid and patrol for spot fires.
Mop-up to secure the fire's perimeter.
Ensure all firelines are patrolled.
Work with the BLM and US Forest Service on suppression repair.
Identify and be prepared to provide firefighting resources to attack new fire starts if requested.
Projected Incident Activity:
Heat wave will be in full force over the area. Fuels will be readily available for consumption. Unburned islands in the interior may pose a threat for reburn but, likely will not pose a threat for spotting or slop-overs.
Remarks:
ODF Team 1 will transition the fire to the ODF Klamath Unit at 8:00 a.m. on 6/27/21 to IC Peterson.
Weather Synopsis
Weather Concerns:
The weather will become increasingly hot and dry through the weekend. Winds should gradually lessen through the weekend as the heat wave moves through and pressure gradients weaken. Mitigating heat stress will be the main weather concern through the weekend.
Incident Contact
Incident Contact
Public Information
Email: cutoff.fire.information@gmail.com
Phone: 971-600-2579
Hours: Monday-Sunday 7 am-9 pm
Fire Unit Information
Klamath-Lake District - Oregon Department of Forestry
3200 DeLap Road
Klamath Falls, OR 97601