Wyrick
FIRE
7,592
acres
21 mi
ENE of Christopher Creek, AZ
79%
contained
Last Updated:
38 mins, 46 secs ago
Incident #:
2021-AZASF-000662
Fire Start:
Saturday, June 19, 2021 12:11 PM MST
Dispatch Notes:
Contain: 07/02/21 1800

Primary Fire Agency
US Forest Service — Apache-Sitgreaves National Forest
Current Weather
Fire Growth Potential
Fire Weather Forecast
Incident Overview Updated: 3 weeks ago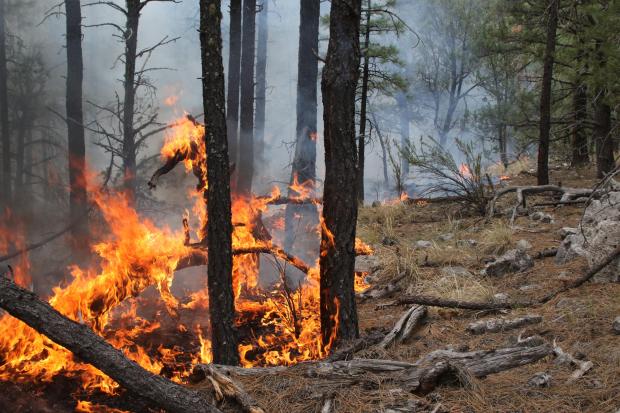 The Wyrick fire is located 2 miles north, and the West Chev fire 12.25 miles NW of Heber, AZ on the Black Mesa Ranger District of the Apache-Sitgreaves National Forests. The Type 2 Southwest Incident Management Team 5 under Incident Commander Mark Bernal took command of the fires at 0600 on Tuesday June, 22, 2021. Ground crews, air tankers and helicopters are working to suppress the fires and protect the communities near Heber-Overgaard.
Basic Information
Date of Origin:
Saturday, June 19, 2021 12:00 PM MST
Location:
2 miles NW of Heber, AZ
Incident Commander:
Bernal- SWIMT 5
Coordinates:
34.483, -110.669
Current Situation
Fuels Involved:
Timber, grass, chaparall
Significant Events:
The Wyrick Fire experienced minimal fire behavior today. Heat sources exist along portions of the perimeter but continue to decline.
Critically low live fuel moistures will accelerate the return of active fire behavior
Planned Outlook
Planned Actions:
Monitor, hold and improve existing firelines where we can safety insert fireline personnel. Assess and complete suppression repair needs across fire area.
Remarks:
The Apache-Sitgreaves National Forests has moved into Stage III fire restrictions, which prohibit public entry to national forest lands. This order has been put in place to protect public health and safety due to extreme fire
danger. Go to https://www.fs.usda.gov/alerts/asnf/alerts-notices/ for additional information
Weather Synopsis
Weather Concerns:
Drier air moved in on northerly winds with mostly sunny skies, and clouds for midday afternoon hours. Fires stayed dry. Monday will transition as moisture begins to arrive on northeast and easterly winds through the day. isolated storms and showers possible in late afternoon and early evening hours.
Incident Contact
Incident Contact
Fire Information
Phone: 928-421-4539
Hours: 8am - 8pm
Fire Unit Information
Apache-Sitgreaves National Forest
U.S. Forest Service
30 S Chiricahua Tri
Springerville, AZ 85938
Dispatch Contact
Show Low Interagency Dispatch Center | Show Low, AZ
928-537-5305