Mojave
FIRE
2,490
acres
55.2 mi
SW of Las Vegas, NV
95%
contained
Incident #:
2021-CAMNP-009642
Fire Start:
Thursday, June 17, 2021 4:51 PM PDT

Primary Fire Agency
National Park Service — Mojave National Preserve
Current Weather
Fire Growth Potential
Fire Weather Forecast
Incident Overview Updated: 1 month ago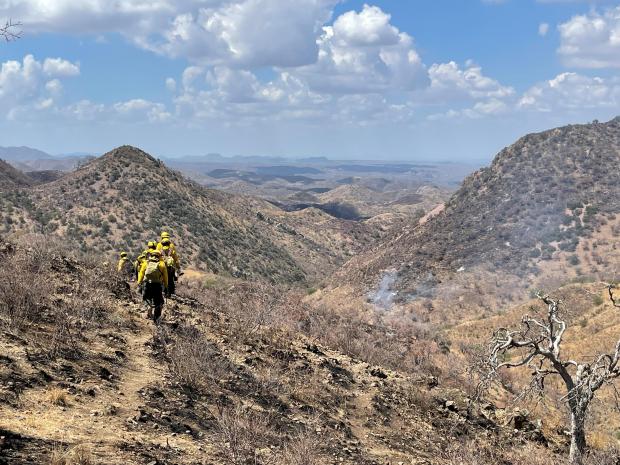 On Thursday June 17, thunderstorms with dry lightning moved through the Mojave National Preserve igniting the Mojave Fire which quickly spread in the Sawtooth Mountain area just south of Halloran Summit. The 2,490-fire continues to threaten Joshua trees, desert tortoises, and desert bighorn sheep, although crews are making good progress toward containment. 
Basic Information
Date of Origin:
Thursday, June 17, 2021 3:51 PM PDT
Location:
Mojave National Preserve, Sawtooth Mountain
Incident Commander:
M. Hoon, BLM
Coordinates:
35.343, -115.783
Current Situation
Estimated Containment Date:
Friday, June 25, 2021 6:00 PM PDT
Fuels Involved:
Short grass and shrubs
Significant Events:
Minimal
Planned Outlook
Planned Actions:
Cold trailing and monitoring the fire
Projected Incident Activity:
Minimal growth potential
Weather Synopsis
Weather Concerns:
A warming trend will send temperatures to near normal on Friday and above normal over the weekend, followed by another push of moisture which could bring more showers and thunderstorms next week.

Incident Contact
Incident Contact
Lisa Wilson
Email: lisa_m_wilson@nps.gov
Phone: 7602526110
Fire Unit Information
Mojave National Preserve
National Park Service
2701 Barstow Road
Barstow, CA 92311