Bear
FIRE
24,067
acres
39.2 mi
SE of East Fork, AZ
50%
contained
Last Updated:
31 mins, 44 secs ago
Incident #:
2021-AZASF-000624
Fire Start:
Wednesday, June 16, 2021 4:25 PM MST

Primary Fire Agency
US Forest Service — Apache-Sitgreaves National Forest
Current Weather
Fire Growth Potential
Fire Weather Forecast
Incident Overview Updated: 6 days ago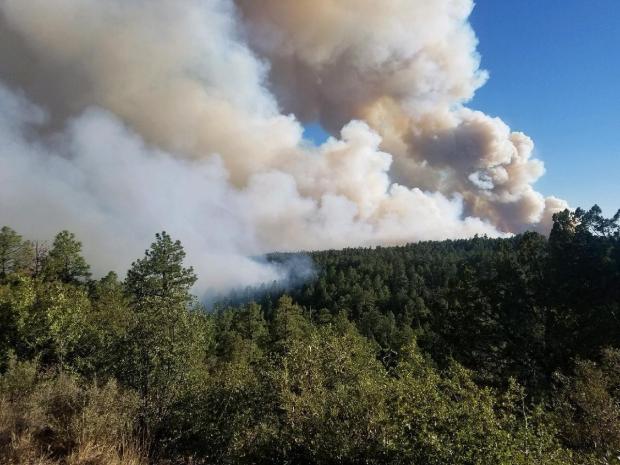 The Bear Fire started June 16 about 10 miles south of Hannigan Meadow. Fire crews intend to confine this fire using indirect and direct tactics. Hwy 191 is closed effective Sunday, June 20. The closure is from milepost 176 to milepost 250 on the north. The closure will remain in effect until further notice.
Basic Information
Date of Origin:
Wednesday, June 16, 2021 2:00 PM MST
Location:
25 miles north of Clifton, AZ
Incident Commander:
Aaron Salazar
Coordinates:
33.458, -109.392
Current Situation
Fuels Involved:
Ponderosa pine, grass, brush
Significant Events:
Implement point protection for Highway 191, range improvements, remote cabins and Rose Peak Lookout.
Remarks:
U.S. Route 191 is open.
Weather Synopsis
Weather Concerns:
The forecast shows increasing moisture this week.
Incident Contact
Incident Contact
Fire Information
Phone: 928-333-6280
Fire Unit Information
Apache-Sitgreaves National Forest
U.S. Forest Service
30 S Chiricahua Tri
Springerville, AZ 85938
Dispatch Contact
Show Low Interagency Dispatch Center | Show Low, AZ
928-537-5305