Deep Creek Canyon
FIRE
4,648
acres
39.3 mi
ESE of Montana City, MT
98%
contained
Last Updated:
36 mins, 57 secs ago
Incident #:
2021-MTHLF-000154
Fire Start:
Sunday, June 13, 2021 4:58 PM MDT

Primary Fire Agency
US Forest Service — Helena - Lewis and Clark National Forest
Current Weather
Fire Growth Potential
Fire Weather Forecast
Incident Overview Updated: 1 month ago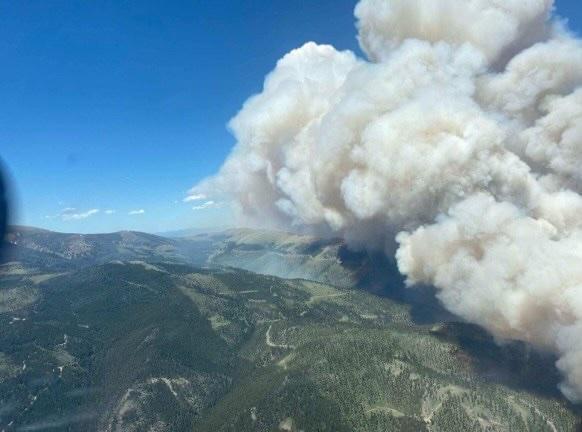 Wildfire Information
Deep Creek Canyon Fire

Townsend Ranger District
Townsend RD: (406) 266-3425; White Sulphur Springs RD: (406) 547-3361
Website: https://inciweb.nwcg.gov/incident/7536/
Facebook: https://www.facebook.com/HLCNF
Twitter: @LewisandClarkNF
Email:  2021.deepcreekcanyon@firenet.gov
#DeepCreekFire

This will be the last update for the Deep Creek Canyon Fire unless significant fire activity occurs.  Please contact your local Ranger District with questions.  Updates to the Area Closure will be available on the Helena-Lewis and Clark National Forest webpage and Facebook page.

Containment is now at 95%. Yesterday, Fire crews meticulously patrolled the perimeter of the fire looking for areas of heat.  No areas of heat were noted, outside of the 5% uncontained area on the northwest edge.  Firefighters will concentrate their efforts over the next several days to extinguish these pockets of heat.  Smoke from smoldering stumps and logs could be visible within the interior of the fire's perimeter for the next several weeks.

Effective immediately all evacuations orders and evacuation warnings are lifted in the Broadwater County side of the Deep Creek Canyon Fire area. If you are a resident of Meagher County, please check the Meagher County Sheriff's Office FB or website for releases on evacuation orders and warning. Thank you to all the citizens for you understanding and cooperation. Thank you to Vigilante Electric for all your hard work trying to get that line rebuilt and the power back to those residents of Deep Creek and Grassy Mountain. THANK YOU to the Northern Rockies Incident Management Team, USFS, DNRC and the Broadwater Co. Rural Fire for everything you all have done to get this fire controlled, contained and wrapped up. Be safe out there. Sheriff Wynn M. Meehan

Per Meagher County Sheriff's Office FB All evacuation restrictions have been lifted for Grassy Mountain at this time. Thank you all for you understanding and patience during this time.

A Message from Vigilante Electric Cooperative: "We are expecting to have the power restored to the Grassy Mountain subdivision around noon today.  Give or take a couple hours.  At this time, we still have at least one pole to set and a few spans of wire to string in.  We made good progress yesterday.  Again, this was very dangerous work, in steep and rugged terrain and I am proud of the way the guys handled the adversities.  In addition, I am very pleased and encouraged with the way the entire group of diverse interests related to this fire came together and worked as a team to get us through what started as literally a life or death crisis.  Kudos to all involved because it did take a true team effort!!  Rollie Miller, General Manager"  (www.facebook.com/vigilanteelectric)

A reminder to all residents who were previously evacuated: you are in the "SET" status and should be prepared to evacuate if fire weather or behavior changes.

Fire Management Information: The Deep Creek Fire is being managed for full suppression. The landscape consists of heavy timber in drainage bottoms and interspersed meadows in the upper slopes, as well as rocky areas with discontinuous vegetation.

# # #                                                                                                                                                                                                                                                                                       
Basic Information
Cause:
The Cause Is Still Under Investigation
Date of Origin:
Sunday, June 13, 2021 3:45 PM MDT
Location:
18 Miles of Townsend, MT
Incident Description:
Wildfire
Coordinates:
46.349, -111.165
Estimated Containment Date:
Thursday, July 8, 2021 12:00 AM MDT
Fuels Involved:
Short Grass (1 foot)
Timber (Litter and Understory)
Light Logging Slash

Significant Events:
Minimal
Creeping
Smoldering
Projected Incident Activity:
Remarks:
Reduced area closure issued July 2, 2021
Incident Contact
Incident Contact
Fire Information
Phone: 406-272-6349
Hours: 8 a.m. - 8 p.m.
Fire Unit Information
Helena - Lewis and Clark National Forest
U.S. Forest Service
2880 Skyway Drive
Helena, MT 59602