Flats
FIRE
341.0
acres
53.2 mi
NE of San Diego, CA
100%
contained
Last Updated:
32 mins, 21 secs ago
Incident #:
2021-CABDF-009477
Fire Start:
Sunday, June 13, 2021 12:12 PM PDT

Primary Fire Agency
US Forest Service — San Bernardino National Forest
Current Weather
Fire Growth Potential
Fire Weather Forecast
Incident Overview Updated: 1 month ago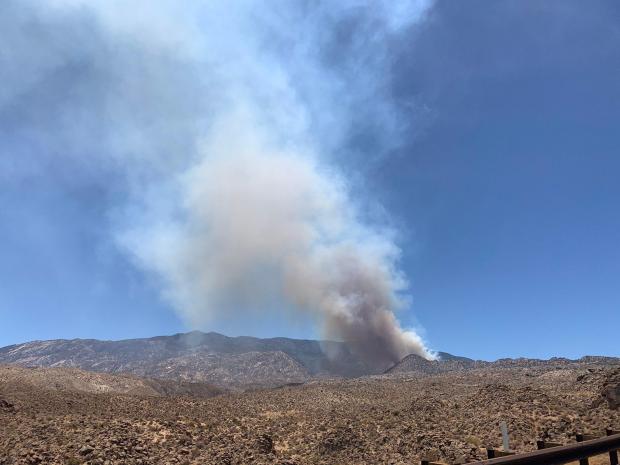 The 341-acre Flats Fire is burning in the Santa Rosa Mountains off Highway 74 near the communities of Pinyon Crest, Pinyon and Alpine Village. It has been 100% contained. Due to more accurate mapping, the fire's size was reduced from 400 acres on Wednesday, June 16.

Two homes were destroyed, three homes damaged and three outbuildings damaged. There was one firefighter injury.

The San Bernardino National Forest is no longer in unified command with CAL FIRE/Riverside County Fire Department and the Riverside County Sheriff's Department. We thank them for their partnership and teamwork!
Evacuation Information
All evacuation orders and warnings have been lifted. Properties within the burn area may be unsafe; please check with fire personnel.

Road Closures
Highway 74 has reopened.
  
Recreation Closures
All recreational sites have reopened. 
Basic Information
Cause:
Under Investigation
Date of Origin:
Sunday, June 13, 2021 11:15 AM PDT
Incident Commander:
US Forest Service
Coordinates:
33.58, -116.451
Incident Contact
Incident Contact
US Forest Service
Phone: 909-382-2711
Fire Unit Information
San Bernardino National Forest
U.S. Forest Service
602 S. Tippecanoe Ave.
San Bernardino, CA 92408