Rincon
FIRE
532.0
acres
26.1 mi
ENE of Santa Fe, NM
Last Updated:
44 mins, 36 secs ago
Incident #:
2021-NMSNF-000190
Fire Start:
Friday, June 11, 2021 1:02 PM MDT

Primary Fire Agency
US Forest Service — Santa Fe National Forest
Current Weather
Fire Growth Potential
Fire Weather Forecast
Incident Overview Updated: 11 hours, 22 mins ago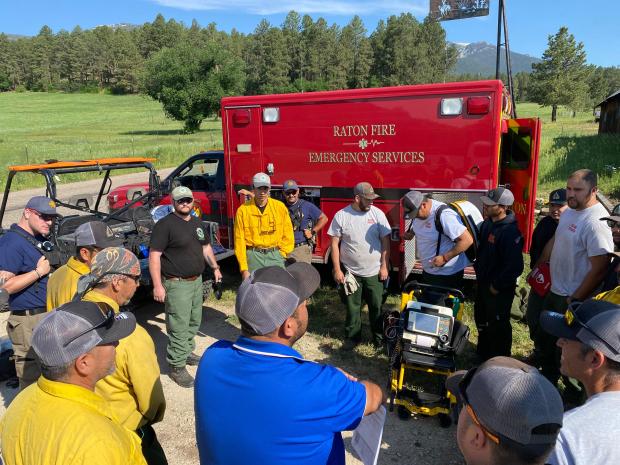 The Rincon Fire was started by lightning June 11, 2021. It is burning within the Pecos Wilderness area in steep, rocky terrain at 11,000-feet elevation. Insect infestation, primarily the spruce beetle, has killed a lot of trees in the area, which is likely to provide ample fuel and generate significant smoke. The challenging topography and heavy fuel load are major factors in determining suppression tactics for the Rincon Fire. 

Southwest Area Incident Management Team 4, lead by Incident Commander Carl Schwope assumed command of the Rincon Fire at 6:00am June 15, 2021.

Smoke from the Rincon Fire is visible within a 100-mile radius of the fire. An interactive smoke map at https://fire.airnow.gov/ allows you to zoom into the Santa Fe area to see the latest smoke information. Smoke-sensitive individuals and people with respiratory problems or heart disease are encouraged to take precautionary Measures. Information on air quality and protecting your health can be found online at the New Mexico Department of Health (NMDOH) Environmental Public Health Tracking (EPHT) website at https://nmtracking.org/fire.

Fire updates will be posted on the SFNF website, New Mexico Fire Information website, Inciweb and on the SFNF Facebook and Twitter. 
Basic Information
Date of Origin:
Friday, June 11, 2021 12:00 PM MDT
Location:
Pecos Wilderness
Incident Commander:
Carl Schwope, SWA IMT4
Coordinates:
35.909, -105.533
Current Situation
Fuels Involved:
Spruce/fir, heavy underbrush, heavy dead and down.
Significant Events:
Minimal creeping and smoldering.
Planned Outlook
Planned Actions:
Monitor fire and gather intel for secondary lines to protect potential values at risk.
Projected Incident Activity:
No anticipated fire movement.
Weather Synopsis
Weather Concerns:
Multiple rounds of showers and thunderstorms developed around
the Rincon Fire on Saturday, although minimal rainfall fell over the fire. Extensive cloud cover helped keep temperatures in the low 70s to mid-8Os and helped keep humidity from dropping into the teens. Light east to southeast winds through the morning became variable las outflow moved across the area. Wind speeds in the afternoon ranged from 8 to 15 mph with gusts 20 to 25 mph at times.
Incident Contact
Incident Contact
Rincon Fire Information
Email: 2021.rincon@firenet.gov
Phone: 505-445-8278
Hours: 8:00 am - 8:00 pm
Fire Unit Information
Santa Fe National Forest
U.S. Forest Service
New Mexico
Santa Fe, NM 87508
Dispatch Contact
Santa Fe Interagency Dispatch Center | Santa Fe, NM
505-438-5600