Bennion Creek
FIRE
8,313
acres
27.5 mi
SE of Spanish Fork, UT
94%
contained
Last Updated:
11 mins, 35 secs ago
Incident #:
2021-UTMLF-000115
Fire Start:
Friday, June 4, 2021 4:31 PM MDT
Dispatch Notes:
Contain: 07/07/21 2000

Primary Fire Agency
US Forest Service — Manti-Lasal National Forest
Current Weather
Fire Growth Potential
Fire Weather Forecast
Incident Overview Updated: 1 month ago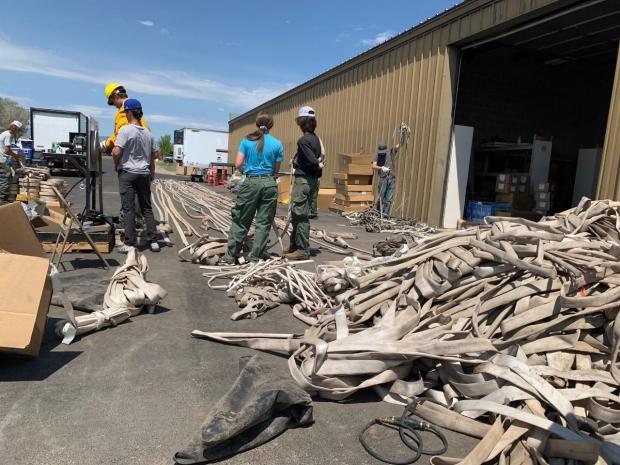 As of Monday, June 28, 2021, there are no area and no road closures for the Bennion Creek Fire on the Manti-La Sal National Forest. A local Type 4 Incident Management Team is in charge of the Bennion Creek Fire. The fire is located on Manti-La Sal National Forest, Bureau of Land Management, state and private lands.

 
Storymap:  https://arcg.is/1Ca5jb
 
Basic Information
Date of Origin:
Friday, June 4, 2021 3:30 PM MDT
Location:
Between Skyline Dr. and Starvation Creek Rd. 2 miles northeast of Scofield Lake.
Incident Commander:
Chip Anderson
Incident Description:
Wildfire
Coordinates:
39.869, -111.228
Current Situation
Estimated Containment Date:
Wednesday, June 30, 2021 12:00 AM MDT
Fuels Involved:
Brush (2 feet)
Chaparral (6 feet)
Timber (Grass and Understory)

Sage and grass transitioning to pinyon/juniper then conifer and aspen. Fuels are critically dry for this time of year.
Significant Events:
Minimal
Creeping
Smoldering

Fire behavior limited to isolated interior areas.
Planned Outlook
Planned Actions:
Suppression repair is complete. One suppression division will remain with minimal resources to patrol and monitor isolated interior heat that is difficult to access. Secure interior heat only as safety will permit. Hand crew will continue work on contingency line for interior heat.

The trails are still closed in the area.
Projected Incident Activity:
Minimal fire growth is expected.

Local unit will assume command of incident. Team will demob following transition.

Suppression repair is complete. Minimal resources will remain to patrol and monitor isolated heat and continue progress on contingency line.
Weather Synopsis
Weather Concerns:
Critically dry fuels and critical ERC's. Isolated heat remains on terrain that is steep and difficult to access. Scattered showers and thunderstorms expected by Tuesday, June 29.
Incident Contact
Incident Contact
Fire Information
Phone: 435-636-3500
Hours: .
Fire Unit Information
Manti-Lasal National Forest
U.S. Forest Service
599 West Price River Drive
Price, UT 84501