Johnson
FIRE
84,900
acres
36.7 mi
NNW of Santa Clara, NM
9%
contained
Last Updated:
1 hour, 6 mins ago
Incident #:
2021-NMGNF-000276
Fire Start:
Thursday, May 20, 2021 8:28 AM MDT
Dispatch Notes:
Misc. Resources assigned

Primary Fire Agency
US Forest Service — Gila National Forest
Current Weather
Fire Growth Potential
Fire Weather Forecast
Incident Overview Updated: 3 hours, 46 mins ago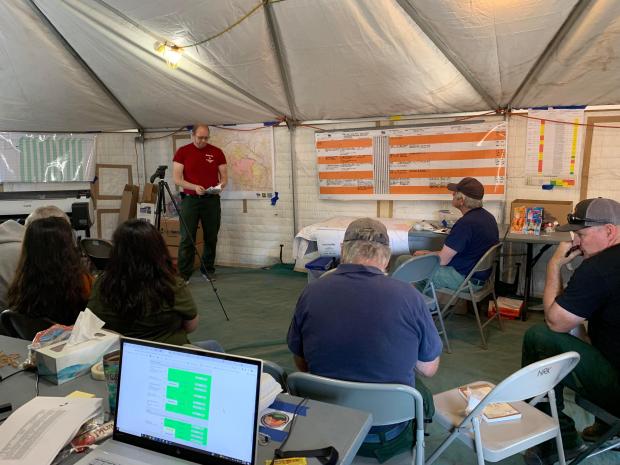 Crews on the northwest side of the fire will continue to improve lines along the Iron Creek Mesa Trail, and scout and assess structures in the Willow Creek area. The northern side of the fire is being monitored by horseback. The southeast flank along Hell and Water Canyons are being checked with helicopter bucket drops. This flank of the fire remains active as it approaches the Gila River. The southern flank of the fire is being monitored by air. Active backing fire behavior was observed southwest of the Mogollon Baldy lookout.
Basic Information
Date of Origin:
Thursday, May 20, 2021 7:30 AM MDT
Location:
3 miles west of Gila Cliff Dwellings
Incident Commander:
Paul Diaz,
Dustin Roper (T)
Coordinates:
33.238, -108.473
Current Situation
Estimated Containment Date:
Thursday, July 15, 2021 12:00 AM MDT
Fuels Involved:
Timber (grass and understory); tall grass 2.5 feet
Significant Events:
Moderate flanking, backing and creeping fire behavior.
Planned Outlook
Planned Actions:
Continue protection of Gila Center and the Willow Creek Subdivision. Monitor the fire by air on all sides. Maintain a presence in West Creek Canyon to patrol and monitor fire progress. Keep crews in the North to monitor and scout for handlines and develop the protection plan around the Willow Creek subdivision. Hold Mogollon Baldy Lookout. Minimize the impact to threatened and endangered species habitat. Continue to check up fire as it progresses into the 2020 Good Fire and the 2020 Cub Fire areas. The current tactic is to try to keep the fire north of the Gila River and East of Water Canyon.
Projected Incident Activity:
Moderate growth is expected to the north towards Willow Creek Subdivision. During the next 24 hours the fire is anticipated to have slow growth to the east, south and west. Fire in the southeast corner will continue to bump the Gila River and move east and west from there.
Weather Synopsis
Weather Concerns:
High temperatures will be up to 88 degrees. Low humidity approximately 10%. Gusty and erratic winds driven by topography and thunderstorms in the area. Winds predicted up to 21 miles per hour. Poor overnight humidity recovery of approximately 34% with considerably lower recoveries in the weather outlook. High Haines Index potential for wildfire growth.
Incident Contact
Incident Contact
Marta Call
Email: SM.FS.GNFPAO@usda.gov
Phone: 575-519-0103
Hours: M-F 7a-7p., S-S 8-6pm
Fire Unit Information
Gila National Forest
U.S. Forest Service
3005 E. Camino del Bosque
Silver City, NM 88061