Doagy
FIRE
12,785
acres
46.6 mi
N of Santa Clara, NM
100%
contained
Incident #:
2021-NMGNF-000247
Fire Start:
Friday, May 14, 2021 2:50 PM MDT
Dispatch Notes:
Out 6/11/21 @ 16:16 | Contain: 06/03/21 0730 | Control: 06/11/21 1616 | Out: 06/16/21 1200

Primary Fire Agency
US Forest Service — Gila National Forest
Current Weather
Fire Growth Potential
Fire Weather Forecast
Incident Overview Updated: 1 month ago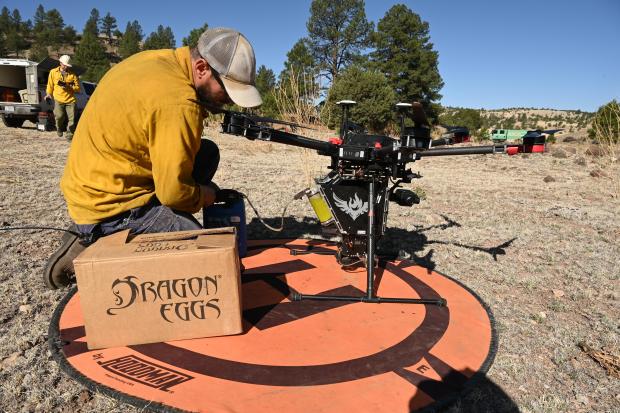 The Doagy Fire is burning on National Forest System lands on the Black Range Ranger District, Gila National Forest. The Doagy Fire was ignited by lightning and reported on May 14. The fire acreage is at 12,785 acres and is 100% contained. The fire started near Doagy Well in Doagy Canyon of the Gila National Forest. Crews patrolled, monitored, and improved fire lines.
Basic Information
Date of Origin:
Friday, May 14, 2021 2:00 PM MDT
Location:
northeast of Beaverhead Administrative Site; near Doagy & Corduroy Canyons
Incident Commander:
S. Seitzinger,ICT4; E. Gutierrez, ICT4t
Incident Description:
Wildland Fire Modified Suppression Tactic, Using Roads As Holding Features
Coordinates:
33.444, -108.035
Current Situation
Estimated Containment Date:
Thursday, June 3, 2021 12:00 PM MDT
Fuels Involved:
Timber, short grass, timber litter and understory
Significant Events:
Minimal
Planned Outlook
Planned Actions:
Monitor and patrol infrastructure and control lines.
Projected Incident Activity:
Minimal fire behavior with the possibility of isolated tree torching in the interior fire area where mosiac burning patterns exist, otherwise smoldering and creeping
Remarks:
Keeping local unit as a Type 4 with 2 agency engines on the incident.
Weather Synopsis
Weather Concerns:
Increased moisture and chances for showers and thunderstorms in
the weather pattern across the Gila region Thursday-Saturday.
Continued warm afternoons and mild overnight temperatures with
low RH values starting on Sunday through early next week.
Incident Contact
Incident Contact
Marta Call
Email: marta.call@usda.gov
Phone: 575-519-0103
Hours: M-F 7-7; S-S 9-5
Fire Unit Information
Gila National Forest
U.S. Forest Service
3005 E. Camino del Bosque
Silver City, NM 88061