Horse Pasture
FIRE
5,000
acres
39.5 mi
SSE of Williston, ND
95%
contained
Last Updated:
22 mins, 4 secs ago
Incident #:
2021-NDDPF-000061
Fire Start:
Saturday, April 3, 2021 6:38 PM CDT
Dispatch Notes:
100% contained | Contain: 04/16/21 1746 | Control: 04/28/21 2000

Primary Fire Agency
US Forest Service — Dakota Prairie National Grasslands
Current Weather
Fire Growth Potential
Fire Weather Forecast
Incident Overview Updated: 3 months ago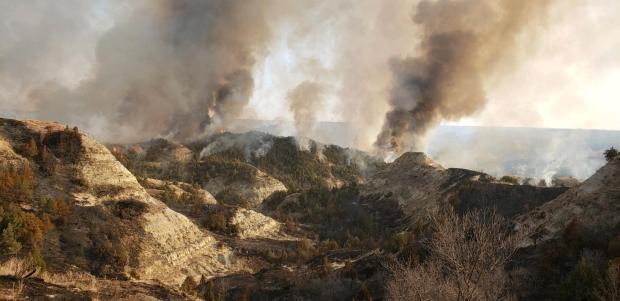 The Horse Pasture Fire was reported on Saturday, April 3, 2021 on the Little Missouri National Grassland, McKenzie Ranger District. It has burned into the North Unit of Theodore Roosevelt National Park.

Wintery weather conditions that developed over this weekend are a welcome sight to the firefighters that have been working the Horse Pasture Fire for the past week. The fire, currently mapped at 5,000 acres, is now 95% contained.

At 6:00 a.m. Wednesday, April 14, 2021 the incident will be turned back to the local unit for continuing patrols and any additional mop-up needs. 

This will be the last update to Inciweb. 
Basic Information
Date of Origin:
Saturday, April 3, 2021 12:00 AM CDT
Incident Commander:
Rod Skalsky, ICT4
Incident Description:
Wildfire
Coordinates:
47.621, -103.298
Current Situation
Fuels Involved:
Tall Grass & Brush
Incident Contact
Incident Contact
J. Michael Johnson -Fire Information Officer
Phone: 402-250-5017
Fire Unit Information
Theodore Roosevelt National Park
National Park Service
North Dakota
315 Second Avenue
Medora, ND 58645