Bonito Rock
FIRE
1,668
acres
13.4 mi
ESE of East Fork, AZ
40%
contained
Incident #:
2021-AZFTA-000129
Fire Start:
Monday, April 19, 2021 2:29 PM MST
Dispatch Notes:
Contain: 05/01/21 1800 | Control: 05/07/21 1800 | Out: 05/21/21 1800

Primary Fire Agency
Bureau of Indian Affairs — Fort Apache Agency
Current Weather
Fire Growth Potential
Fire Weather Forecast
Incident Overview Updated: 3 months ago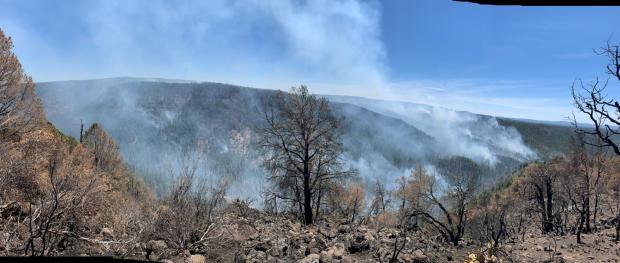 The Bonito Rock fire is burning on the Fort Apache Indian Reservation in a remote location, in very rugged terrain, and is located 15 miles southeast of Whiteriver, AZ.

On May 01, 2021 the fire transitioned from the White Mountain Zone Type 3 Team back to a Type 4 fire organization led by Incident Commander Carlton Goseyun. This is the final update on the Bonito Rock fire from the White Mountain Zone Type 3 Incident Management Team unless conditions worsen, or factors determine otherwise.
Basic Information
Date of Origin:
Monday, April 19, 2021 12:00 AM MST
Location:
15 miles Southeast of Whiteriver, AZ
Incident Commander:
Carlton Goseyun
Coordinates:
33.723, -109.714
Current Situation
Fuels Involved:
Timber (Litter and Understory), Timber (Grass and Understory), Brush (2 feet)
Significant Events:
Minimal, Smoldering, Creeping
Planned Outlook
Planned Actions:
Continue to hold and patrol previous control lines. Continue contingency line prep.
Projected Incident Activity:
Weather will become hotter and drier. Interior unburned pockets may begin to show more heat/ smoke. Resources will hold and mop up control lines.
Weather Synopsis
Weather Concerns:
High pressure building into the region will result in dry and much warmer weather on Saturday. Expect low afternoon humidity. East to northeast winds will shift to westerly and increase by Saturday afternoon.
Incident Contact
Incident Contact
Candy Lupe
Phone: 928-205-5662
Fire Unit Information
Fort Apache Agency
Bureau of Indian Affairs
P. O. Box 560 Whiteriver Arizona 85941
Whiteriver, AZ 85941
Dispatch Contact
Show Low Interagency Dispatch Center | Show Low, AZ
928-537-5305