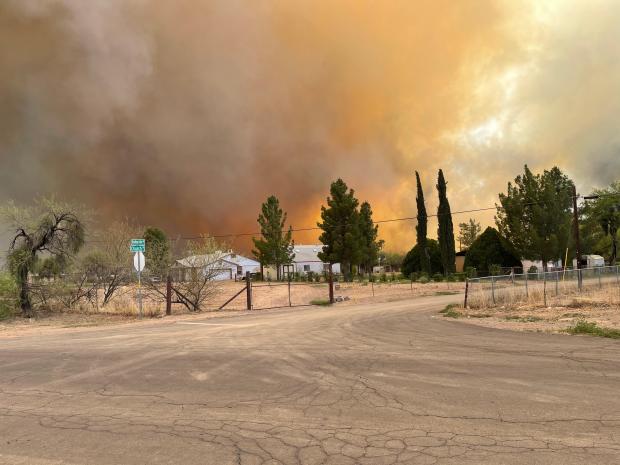 Firefighters have the Margo Fire 100% contained at 1,148 acres. The fire has been put in monitor status and the Arizona Department of Forestry and Fire Management has turned it back over to the Dudleyville Fire District.

As of Saturday, all residents of Dudleyville were able to return home. There are no road closures in the area.
The Margo Fire started around 9am, Thursday, April 8th within the Gila River bottom near Dudleyville in Pinal County. Hot and dry conditions, dense fuel, and windy conditions challenged firefighters throughout the day. Unsafe conditions, high fire activity, smoke impacts, and proximity of involved fuels forced the evacuation of approximately 200 residents of Dudleyville. A state fire investigator has confirmed the fire was human caused and is working to determine the ignition source.

Arizona Department of Forestry and Fire Management on Twitter - https://twitter.com/azstateforestry 
Arizona Department of Forestry and Fire Management on Facebook - https://www.facebook.com/arizonastateforestry
For information on evacuations contact the Pinal County Sheriff's Office or follow them on social media. 
For information on road closures contact the Arizona Department of Transportation or follow them on social media. 
Ready Set Go - https://ein.az.gov/ready-set-go  
Basic Information
Incident Type:
Wildfire
Cause:
Human Caused, Under Investigation
Date of Origin:
Thursday April 08th, 2021 approx. 09:00 AM
Location:
Dudleyville - Pinal County
Incident Commander:
Jacob Pace, DFFM
Incident Description:
Wildfire
Coordinates:
32.916, -110.73
Current Situation
Total Personnel:
69
Size (Acres):
1,148
Containment:
100%
Fuels Involved:
Salt Cedar, grass, and brush
Weather Synopsis
Weather Concerns:
Sustained Winds of 20 miles per hour with gusts up to 35 miles per hour expected.
Incident Contact
Incident Contact
Tiffany Davila
Email: tdavila@dffm.az.gov
Phone: 602-540-1036
Fire Unit Information
Arizona Department of Forestry and Fire Management - State Office
1110 W. Washington Suite 100 Phoenix Arizona 85007
Phoenix, AZ 85007