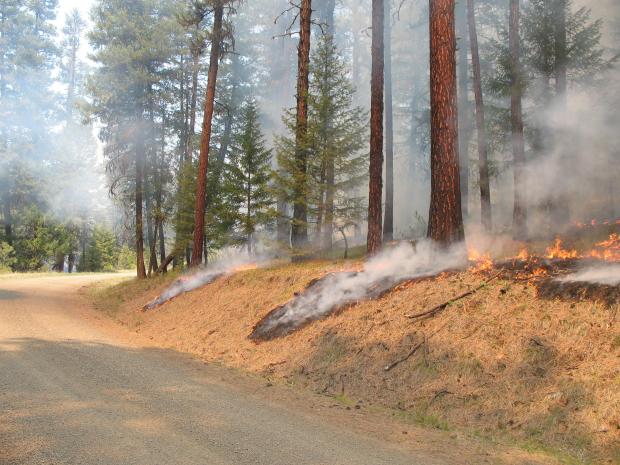 The Umatilla National Forest prescribed fire page contains information on the Forest's planned, active and completed prescribed burning for 2021. In general, there are two burn seasons each year to accomplish prescribed fire projects. Early season burns typically occur in late winter through the early fire season in late spring/early summer. Late season burns typically occur in late fire season and into December. The specific dates of a burn during a season is dependent on many variables including wildfire activity, resource availability, current and predicted weather, and smoke management constraints.

Frequent, low-intensity fire is essential for healthy forests and reducing the risk of uncharacteristic wildfire caused by excessive fuel buildup. Prescribed burning is an effective tool for removing excessive amounts of brush, shrubs, and trees, while also encouraging the growth of native vegetation.
NEW! Prescribed Fire Activity Interactive Map (This interactive map will be best viewed using Chrome, Safari, Firefox or Internet Explorer 9 or higher).

Check out our interactive prescribed burn map for information on active burn units, burn unit locations and more. This interactive map allows the user to zoom in on certain areas and click on a burn unit for more information (such as acreage, status, etc).
Prescribed Fire Status:
Active - Unit is planned to be burned shortly, is currently being burned, or was burned very recently

Completed - Ignitions are complete and the unit will be patrolled until declared out

Not Active- Unit is being considered for burning
The data represents the recently completed, active, upcoming, and out-year prescribed fire planning for the Umatilla National Forest. All units have been analyzed under the National Environmental Policy Act (NEPA). Burning typically takes place once all other activities described in the project analysis have been completed. Prescribed burning is highly dependent on precise weather and fuel conditions, and managers coordinate with the Oregon Department of Forestry to minimize air quality impacts to local communities.
Basic Information
Incident Type:
Prescribed Fire
Cause:
Prescribed/planned
Coordinates:
45.67, -118.87
Planned Outlook
Planned Actions:
None
Remarks:
Recreationists, hunters, and other forest users should be aware of potential prescribed fire areas listed when selecting areas to camp and/or hunt. Please refer to this site to aid in the planning of your trip, or call the office at 541-278-3716
Weather Synopsis
Weather Concerns:

Prescribed burning is highly dependent on weather conditions. Conditions have to be within narrow criteria window in order to use prescribed fire. Wind speed and direction, temperatures, relative humidity, and fuel moistures are all taken into consideration.
Incident Contact
Incident Contact
Andrew Stinchfield
Email: astinchfield@fs.fed.us
Phone: 541-278-3852
Hours: M- F, 8 a.m. - 4:30 p.m.
Fire Unit Information
Umatilla National Forest
U.S. Forest Service
72510 Coyote Road
Pendleton, OR 97801