244
FIRE
136.0
acres
7.5 mi
ESE of Hill City, SD
100%
contained
Incident #:
2021-SDMRP-000167
Fire Start:
Monday, March 29, 2021 10:30 AM MDT
Dispatch Notes:
Contain: 04/01/21 2000 | Control: 04/05/21 1207 | Out: 04/07/21 1300

Primary Fire Agency
National Park Service — Mount Rushmore National Memorial
Current Weather
Fire Growth Potential
Fire Weather Forecast
Incident Overview Updated: 4 months ago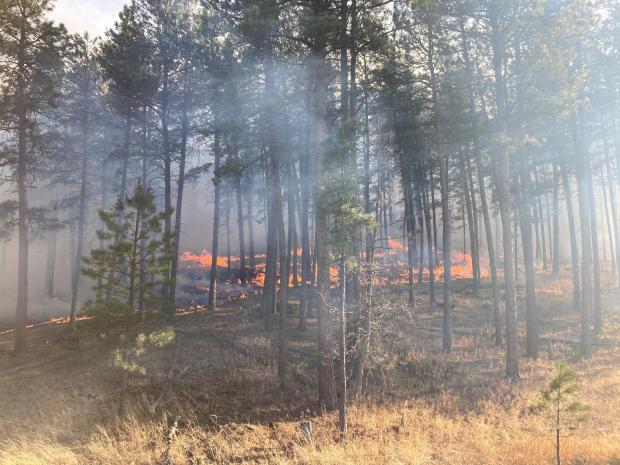 Friday, April 2, 2021

7:30 a.m. Update

The 244 Fire is now 100% contained at 136 acres, and some resources are demobilizing from the incident. A Type 4 incident organization remains in place, under Incident Commander Eric Allen, to continue mop-up and rehab of fireline, and patrol lines to guard against any potential wind-driven rekindle.

Mount Rushmore National Memorial is open with no restrictions; please drive carefully and be on the lookout for fire traffic along SD 244. 

US 16A, Iron Mountain Road, will reopen at 7 p.m. tonight.

The firefighters, incident managers, and Mount Rushmore National Memorial staff appreciate the patience and understanding of local residents and visitors as we work diligently to safely reopen all areas affected by the 244 Fire.
Basic Information
Incident Commander:
Eric Allen - NPS
Coordinates:
43.892, -103.409
Planned Outlook
Planned Actions:
Continue mop-up and rehab; patrol lines.
Incident Contact
Incident Contact
Travis Mason-Bushman
Email: travis.a.mason-bushman@usda.gov
Phone: 605-228-3867
Fire Unit Information
Mount Rushmore National Memorial
National Park Service
13000 Highway 244 Building 31 Suite 1 Keystone South Dakota 57751
Building 31, Suite 1
Keystone, SD 57751