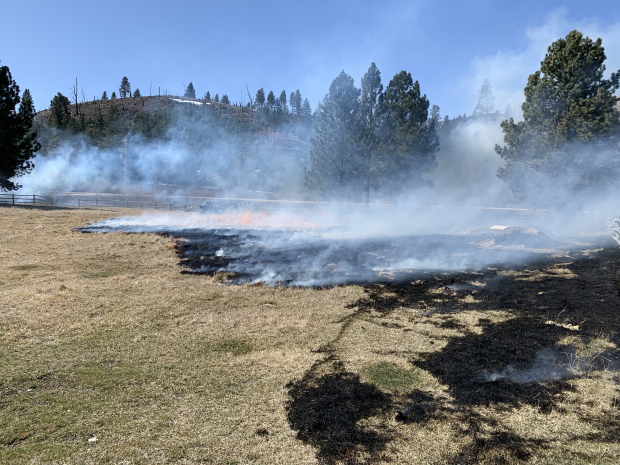 See the 'Announcements' and 'News' Tabs for the latest information on planned prescribed burns.

Pending favorable conditions, underburning operations could begin as soon as Wednesday, March 31, on the Darby/Sula Ranger District.  Underburning, a type of prescribed fire treatment, ignites vegetation under the forest canopy and focuses on the consumption of surface fuels.  Over the next two months, the Bitterroot National Forest is planning to implement numerous prescribed burning projects.  Timing of the burns will be dependent on favorable weather conditions and good smoke dispersion. 
 Maps: 
Interactive Planned Prescribed Fire Map 

PDF Prescribed Burning Map 
Treatment areas include:
 
Darby/Sula Ranger District – 2,300 acres are planned:
Waddell Units, south of Lake Como

Como/Horse Lick, south of Lost Horse and north of Lake Como- 168 acres complete 

Trapper Bunkhouse, SW of Darby between Little Tin Cup & McCoy Creeks  

Cameron Blue and Middle East Fork, along East Fork road near Guide Creek and Tolan Ridge

Sula Ranger Station, horse pasture and ditches- 10 acres complete
 
West Fork Ranger District – 1,200 acres are planned:
Lower West Fork Units, south of Trapper Creek and north of Lloyd Creek  

School Point Ecoburn Units, west of Boulder Creek and east of Halford Creek

Soda Springs Ecoburn, east of Little West Fork, west of Halford Creek along Forest Road 5633B

Frazier Interface, south of Pierce Creek and north of Baker Creek  

Horse Pasture north of confluence of Nez Perce Fork & West Fork Rivers at Lone Pine Helibase
Stevensville Ranger District– 1,000 acres are planned:
Larry Bass Units, within the Bass Creek Recreation Area north of Stevensville

Sweeney Creek Units, west of Florence

Three Saddle Units, Sapphire Mountains east of Stevensville  


Basic Information
Incident Type:
Prescribed Fire
Location:
Bitterroot National Forest
Incident Description:
To Reduce Potential For Large Wildfires, Remove Excess Vegetation, And Improve Overall Forest Health, The Bitterroot National Forest Is Planning To Implement Spring Prescribed Burning Projects This Spring.
Coordinates:
46.081, -114.176
Incident Contact
Incident Contact
Tod McKay
Email: tod.mckay@usda.gov
Phone: 406-363-7122
Hours: M-F 9-6
Fire Unit Information
Bitterroot National Forest
U.S. Forest Service
1801 North 1st Hamilton Montana 59840
Hamilton, MT 59840