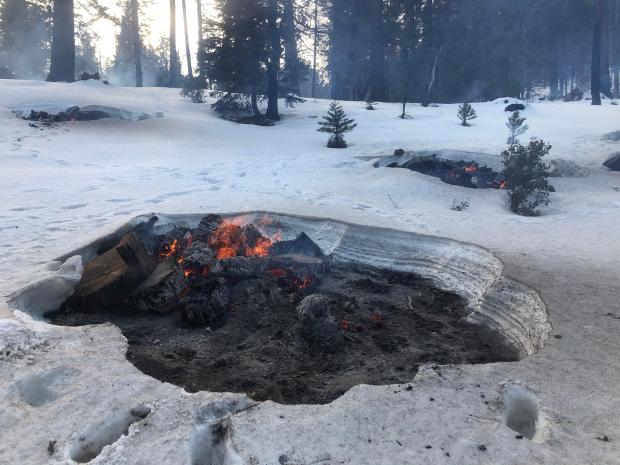 Efforts continue to prescribe burn hand piles at the Trail of 100 Giants on the Western Divide Ranger District. To date, 806 piles have been burned with an additional 300 snow covered piles that will be targeted this week.  There is still a great amount of snow accumulated throughout the area along with high relative humidity making ignitions a little more challenging during the early morning hours. Fire personnel tactically concentrated efforts on the south part of the Trail that was more exposed.
Good smoke dispersion was observed as the piles burned down to the desired consumption goals to meet burn plan objectives. Cleanup efforts will be done on approximately 60 acres and continue as weather, fuel, and smoke conditions permit. 
For many years, Forest officials have worked to reduce the number of dead or dying trees at risk of falling onto this popular Trail. Tree species that succumbed to drought and other natural causes were predominantly white fir, sugar pine, ponderosa pine, and incense cedar.  Many of the dead trees were large, and could seriously injure visitors, damage the trail infrastructure, or even damage the giant sequoias should they fall.
Numerous trees were successfully felled last summer, leaving behind unsightly debris that was piled and prepped for removal by prescribed fire when conditions allowed. "Extraordinary efforts to alleviate these hazards at the Trail of 100 Giants have been going on for years," stated District Ranger Eric LaPrice. "Forest Service employees are determined to clean up this popular attraction to make it available for our visitors. Thank you to Forest Service personnel that have contributed to the prescribe burn efforts."
 
Basic Information
Incident Type:
Prescribed Fire
Coordinates:
35.977, -118.596
Current Situation
Total Personnel:
10
Size (Acres):
60
Incident Contact
Incident Contact
Denise Alonzo
Email: denise.alonzo@usda.gov
Phone: 559-539-2607 ext. 2212
Hours: Mon - Thurs 7 a.m. - 3 p.m.
Fire Unit Information
Sequoia National Forest
U.S. Forest Service
1839 S. Newcomb St
Porterville, CA 93257