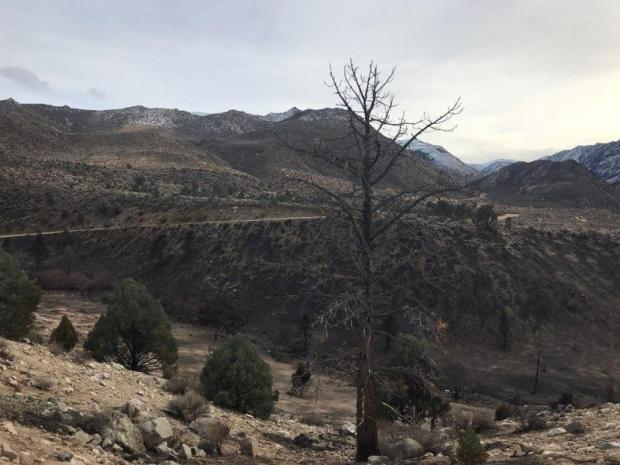 The Mountain View fire is 70% contained at 20,385 acres.  Containment line has been secured around 70% of the fire perimeter; the remaining 30% is under snow.  Fire activity is minimal and confined to "ground fire".  This means that stumpholes and underground roots are the only fuels actively burning.  Snow melt is aiding in extinguishing these materials.  Generally there are not enough surface fuels to support fire spread.  The remaining visible smokes are from individual burning pinyon trees well within the secured fire perimeter.

California Fire Management Team 11 will return management of the Mountain View fire to the hosting agencies:  Bureau of Land Management, the Humboldt-Toiyabe National Forest and Antelope Valley Fire Department today at 8 PM.  Mountain View firefighters will return home tomorrow.

Evacuations were lifted yesterday morning for remaining Antelope Valley residents.  Mono County will be updating the following website with recovery resources available to affected residents.  Please refer to it for current announcements of help and support:https://mountainviewfire.monocounty.ca.gov/
The Mono County Public Information office is also managing a Facebook page with information and resources for Antelope Valley residents impacted by the Mountain View Fire.  It is linked to the webpage above: https://www.facebook.com/Mountain-View-Fire-Resources-and-Recovery-103809508226400 Note that bottled water is available for affected residents at the Walker General Store and Meadow Cliff Lodge.    
Unless significant changes occur, this will be the final update for the Mountain View Fire.
Basic Information
Incident Type:
Wildfire
Cause:
Unknown
Date of Origin:
Tuesday November 17th, 2020 approx. 12:15 PM
Location:
Coleville, California in Mono County
Incident Commander:
Bureau of Land Management
Incident Description:
Wildfire
Coordinates:
38.515, -119.465
Size (Acres):
20,385
Containment:
70%
Estimated Containment Date:
Monday November 30th, 2020 approx. 12:00 AM
Fuels Involved:
Grass, sagebrush and pinyon-juniper
Significant Events:
Fire activity is minimal with some smoldering in isolated stump holes.
Planned Outlook
Planned Actions:
Patrol established control lines.
Projected Incident Activity:
For the next 12 hours: Mainly smoldering where heat exists in stump holes, and heavy downed material within containment lines.
Remarks:
This is the final 209 update unless some significant activity occurs. Fire management has been returned to the respective agencies: Antelope Valley Fire Department, Bureau of Land Management and the Humboldt-Toiyobe National Forest.
Weather Synopsis
Weather Concerns:
Some breezy northwest winds are possible over portions of the fire
footprint today as a low pressure area exits to the east. Otherwise,
seasonal temperatures in the upper 40s with lows in the upper 20s
with good humidity recovery is expected for the remainder of today with mostly light, terrain-driven winds overnight. Tranquil weather is expected on Tuesday with seasonal temperatures and light winds before the next trough approaches the region on Wednesday for increasing southwest winds and cooler temperatures.
Incident Contact
Incident Contact
Information Line
Email: smshaw@blm.gov
Phone: 661-448-7621
Hours: M-F 8am-5pm
Fire Unit Information
Bishop Field Office
Bureau of Land Management
California
Bishop, CA 93514