Encinos
FIRE
9,357
acres
9.2 mi
E of San Miguel, AZ
100%
contained
This fire is no longer active
Last Updated:
7 months ago
Incident #:
2020-AZA3S-002199
Fire Start:
Tuesday, October 6, 2020 6:53 PM MST
Dispatch Notes:
Contain: 10/25/20 1830 | Control: 10/25/20 1830 | Out: 11/07/20 0915

Primary Fire Agency
Arizona Department of Forestry and Fire Management — Southeast District
Current Weather
Fire Growth Potential
Fire Weather Forecast
Incident Overview Updated: 8 months ago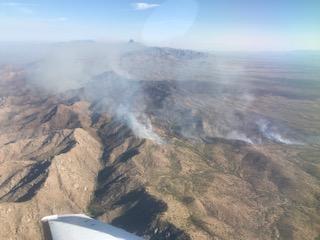 The Encinos Fire saw no new growth overnight and remains at 14,907 acres. It is 55% contained, not 95% as previously reported. The decrease in containment numbers was due to miscommunication between the Encinos and Espinosa Fires. Cooler overnight temperatures and increased relative humidity have significantly reduced fire behavior. Line is holding on all sides of the fire and firefighters are confident the incoming wind event should not impact the fire's activity or cause any control problems.

Today, crews will continue to patrol and monitor line as the fire does continue to smolder in some areas and is expected to make some uphill runs within pockets of unburned fuels. The threat to structures and area infrastructure has greatly decreased.  
Basic Information
Cause:
Human Caused, Under Investigation
Date of Origin:
Tuesday, October 6, 2020 7:00 PM MST
Location:
11 mi. NW of Sasabe
Incident Commander:
PJ Lingley
Incident Description:
Wildfire
Coordinates:
31.623, -111.624
Current Situation
Fuels Involved:
short grass and brush
Weather Synopsis
Weather Concerns:
Warm temperatures and wind gusts expected up to 22mph
Incident Contact
Incident Contact
Tiffany Davila
Email: tdavila@dffm.az.gov
Phone: 602-540-1036
Fire Unit Information
Arizona Department of Forestry and Fire Management - State Office
1110 W. Washington Suite 100 Phoenix Arizona 85007
Phoenix, AZ 85007