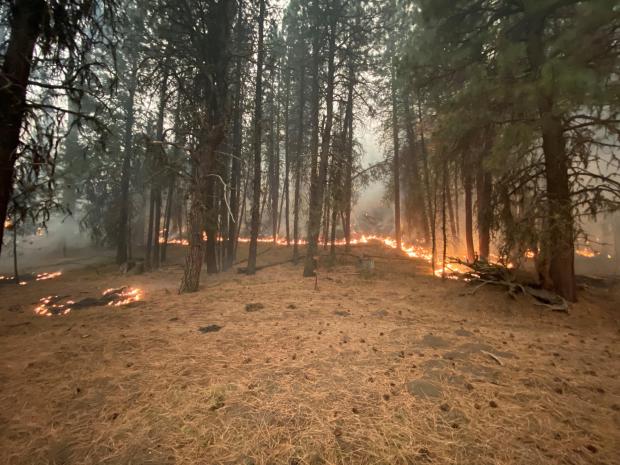 Please take a moment to look at the links section of this page to see information on Smoke as well as to access  USFS R6 Tri-Forest Prescribed Fire Projects 
 December 7, 2020 

Emigrant Creek Ranger District  will continue burning of landing and grapple piles in the Upper Pine and Mud project areas.  Upper Pine units are located out on National Forest System Road 28-2850 areas.  The Mud units are located off of National Forest System Road 31.  
Prairie City Ranger District will continue burning piles in the Summit Prairie and Elk 16 project areas.
Blue Mountain Ranger District may start pile burning in the Big Mosquito unit towards mid-week.    
Burning may take place at:
Starr units 31, 32, 33 Approx. 1435 acres. South side of the National Forest System (NFS) road 24 and north of the NFS road 2400071, 9 miles west of Seneca. T16S, R30E, sec 29, 30 & T16S, R29E, sec 24,25

Starr units 6, 7, approx. 400 acres south of the NFS road 4920333 west of Highway (Hwy) 395. T15S, R30E sec 25

Soda Bear Unit 4 and 4a approx. 700 acres. East of Hwy. 395 and east on the NFS road 3925 to junction of NFS road 3925 and NFS road 3925297.

Silvies unit 7 approx. 3400 acres. T20E, R31S, sec 4, 5, 8, 9, 15, 16, 17, 20, 21 & T19E, R31S, sec 32 and 33. North of the NFS road 3110, west of the NFS 31.  

MD B, approx., 900 acres. T20S, R31E, sec 23,24,26,27. East of Hwy 395, north of NFS road 2820, west of the NFS road 532.
Since prescribed burn operations are planned in advance, they have critical safety components in place and are carefully designed to occur within a combination of natural and constructed control lines. In 2020, we have increased coordination measures regarding COVID-19 mitigation.