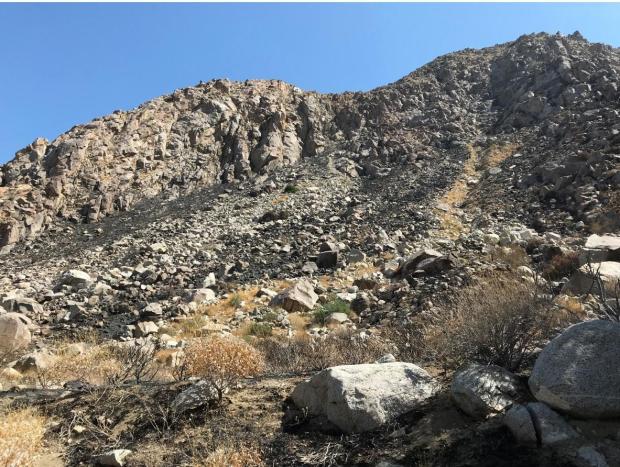 Steep rugged terrain San Jacinto Wilderness  
On November 16, 2020 San Bernardino National Forest officials announced that the Snow Fire, along with the El Dorado and Apple Fires have reached 100% containment. These fires were previously at 95% containment because uncontained perimeters were located in steep and inaccessible terrain. Containment has now been achieved as fire in uncontained areas has reached natural features void of vegetation.
Although full containment has been reached, the three fires remain in a status called uncontrolled. That means smoldering continues within the interior of the burn scar perimeters.

Fire restrictions on the forest will remain in effect until conditions improve, and are listed on the San Bernardino National Forest webpage.
Portions of the San Jacinto Wilderness, Santa Rosa and San Jacinto National Monument, Tahquitz National Game Preserve as well as portions of the Pacific Crest Trail are within the fire perimeter. 
 
Please visit the forest's Alerts and Notices page for the fire closure area, which includes a portion of the PCT between Snow Creek Village and Black Mountain Road:  https://origin-fs.fs.usda.gov/alerts/sbnf/alerts-notices.
Basic Information
Incident Type:
Wildfire
Cause:
Under Investigation
Date of Origin:
Thursday September 17th, 2020 approx. 12:00 AM
Location:
Snow Creek Village
Incident Commander:
US Forest Service
Coordinates:
33.889, -116.685
Size (Acres):
6,254
Containment:
100%
Estimated Containment Date:
Thursday December 31st, 2020 approx. 12:00 AM
Fuels Involved:
Low Desert Chaparral leading into heavy riparian brush.
Planned Outlook
Planned Actions:
This fire is currently in patrol status and not yet considered "controlled."
Projected Incident Activity:
Some interior islands of fuel may continue to burn and put up smoke especially during red flag conditions.
Remarks:
An emergency fire closure order is in effect, including a section of the Pacific Crest Trail between Snow Creek Village and Black Mountain Road.

There are currently no evacuation warnings or road closures.
Weather Synopsis
Weather Concerns:
Hot Temperatures, low Humidity, and wind due to fire location in the San Gorgonio Pass.
Incident Contact
Incident Contact
Fire Info Center
Phone: 909-383-5688
Hours: 7 Days 8AM till 8 PM
Fire Unit Information
San Bernardino National Forest
U.S. Forest Service
602 S. Tippecanoe Ave.
San Bernardino, CA 92408