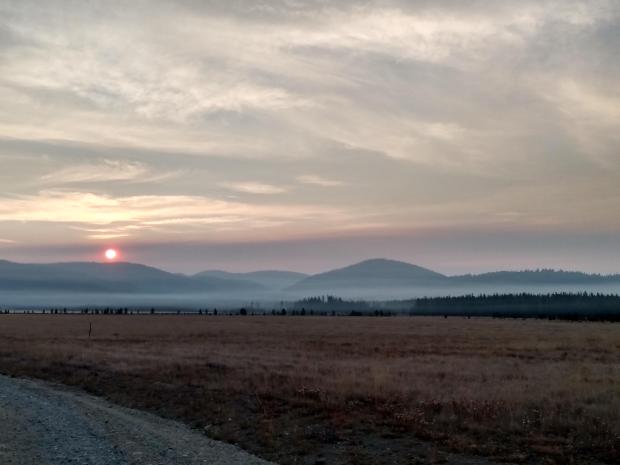 TRAP CREEK FIRE: The Trap Creek fire is located on the Sawtooth National Recreation Area and the Middle Fork RD of the Salmon-Challis NF, approximately 9 miles northwest of Stanley, ID. The fire was first reported on September 14th, 2020 near Trap Creek Campground. Continued cooler temperatures, cloud cover and higher humidity has given firefighters time to complete containment line along the north and eastern portions of the fire. Crews continue to monitor fire activity on the south and western perimeter of the fire.
Hazard tree mitigation along highway 21 has ended, and the highway is now fully open. However; the public is still encouraged to drive slowly due to smokey conditions and the presence of firefighters entering and exiting the roadway. 
Basic Information
Incident Type:
Wildfire
Cause:
Unknown
Date of Origin:
Monday September 14th, 2020 approx. 12:45 PM
Location:
9 miles north west of Stanley Idaho
Incident Commander:
Sierra Front Type III IMT/Stephenson
Coordinates:
44.312, -115.1
Current Situation
Total Personnel:
125
Size (Acres):
2,285
Containment:
41%
Estimated Containment Date:
Wednesday September 30th, 2020 approx. 06:00 PM
Fuels Involved:
Lodgepole Pine with grass understory
Significant Events:
Minimal fire behavior. The fire is creeping with single tree torching.
Planned Outlook
Planned Actions:
Continue mop up on east flank. Hold the fire south of the Swamp Creek trail, west of the Cape Horn Road, and east and north of Elk Creek trail. Monitor South West portion for activity..
Projected Incident Activity:
12 hours: Fire activity expected to decrease with night time cooler temperatures and higher humidity. HWY 21 will remain open depending on fire behavior.
24 hours: Activity expected to decrease do to cloudy conditions cooler temperatures and higher humidity.
Remarks:
Two Type II Crews, ten engines, two water tenders, and two helicopters are on scene.
Weather Synopsis
Weather Concerns:
Cloudy conditions should moderate fire behavior. Two Pacific disturbances will rotate through the region tonight and Saturday night resulting in wetting rains in some areas. Strong gusty winds will also accompany the disturbances each day.
Incident Contact
Incident Contact
Stanley Ranger Station
Phone: 208-774-3000
Hours: M-F 8:00 am - 4:30 pm
Fire Unit Information
Sawtooth National Forest
U.S. Forest Service
370 American Ave.
Jerome, ID 83338