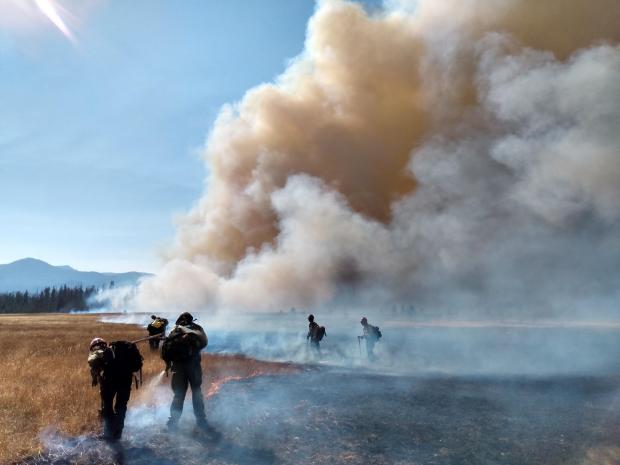 The Trap Creek fire is located on the Sawtooth National Recreation Area and the Middle Fork RD of the Salmon-Challis NF, approximately 9 miles northwest of Stanley, ID. The fire was first reported on September 14th, 2020 near Trap Creek Campground. Last weekend, cooler temperatures, cloud cover and higher humidity allowed firefighters time to complete 100 % containment line along the northeast side of highway 21, where full suppression was needed for public safety and structure protection. On the southwest portion of the fire, crews have been monitoring activity within the existing fire perimeter. Yesterday's warm weather, and afternoon winds, caused for an increase in fire behavior that resulted in minimal fire growth and intermittent closures of highway 21. Highway 21 is now back open.
Basic Information
Incident Type:
Wildfire
Cause:
Unknown
Date of Origin:
Monday September 14th, 2020 approx. 12:45 PM
Location:
9 miles north west of Stanley Idaho
Incident Commander:
Sawtooth NRA Type IV IC
Incident Description:
Firefighters Have Completed A 100% Containment Line Along The Northeast Side Of Highway 21, Where Full Suppression Was Needed For Public Safety And Structure Protection. On The Southwest Portion Of The Fire, Crews Have Been Monitoring Activity Within The Existing Fire Perimeter For An Overall Containment Of 41%.
Coordinates:
44.312, -115.1
Current Situation
Total Personnel:
23
Size (Acres):
2,627
Containment:
41%
Estimated Containment Date:
Friday October 30th, 2020 approx. 06:00 PM
Fuels Involved:
Lodgepole Pine with grass understory
Significant Events:
Minimal fire behavior. The fire is smoldering, backing down slopes, and creeping.
Planned Outlook
Planned Actions:
Fire is in monitor status. Closures have been reduced to the fire perimeter on the west side of highway 21. Resources will be reduced down to the local unit.
Projected Incident Activity:
12 hours: Sunny and warmer day time temperatures may cause an increase in smoke visible from HWY 21.
24 hours: Activity expected to increase due to lower humidity and warmer temperatures.
Remarks:
One helicopter, one crew, and two engines are assigned to the fire.
Weather Synopsis
Weather Concerns:
Will have very cold conditions continuing today. A warming trend will begin Tuesday and temperatures will warm to above normal by Wednesday and continue through next weekend. Expect no precipitation this week with mainly light winds.
Incident Contact
Incident Contact
Stanley Ranger Station
Phone: 208-774-3000
Hours: M-F 8:00 am - 4:30 pm
Fire Unit Information
Sawtooth National Forest
U.S. Forest Service
370 American Ave.
Jerome, ID 83338