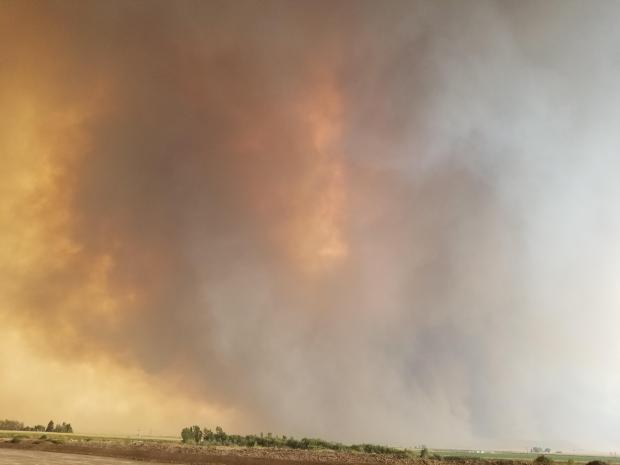 The Badger Fire is located on the Minidoka Ranger District 20 miles southwest of Oakley, ID. The fire started on September 12, 2020 near Badger Gulch off Forest Road 533 and 536.  High winds and critically dry fuels resulted in extreme fire behavior, including long range spotting and fire whorls, and caused the fire to grow rapidly.

On Friday, September 18th,  Sam Hick's Type 2 Great Basin Team 5 assumed command of the fire.

An evacuation order is in place through Sunday, September 20th at 8:00 a.m. for the residents of Rock Creek Drainage Area.  The mandatory evacuation area covers the bottom half of Rock Creek from Third Fork Drainage on the south and to Foothill Road on the north end in Twin Falls County.

No primary structures or homes have been burned.  Aircraft continue to support firefighters with water bucket drops from helicopters and retardant from fixed-wing air tankers. Scooper planes are working on the north and northwest perimeter of the fire. The Badger Fire is 99,627 acres and 0% contained.
Basic Information
Incident Type:
Wildfire
Cause:
Unknown
Date of Origin:
Saturday September 12th, 2020 approx. 05:19 PM
Location:
20 miles southwest of Oakley Idaho
Incident Commander:
Sam Hicks - Type 2 Team - Great Basin Team 5
Incident Description:
Fire Is Burning In The Cassia Division Of The Sawtooth Nf, And Blm Lands On The North Edge.
Coordinates:
42.091, -114.169
Current Situation
Total Personnel:
286
Size (Acres):
89,090
Estimated Containment Date:
Saturday October 31st, 2020 approx. 12:00 AM
Fuels Involved:
Timber (Grass and Understory,
Heavy Logging Slash, Beetle- killed timber.

ERCs above the 97th percentile. 1,000-hour fuel moisture below 10 percent.
Significant Events:
Active fire behavior DIV F is experiencing surface spread at moderate to high ROS along the east side of Rock Creek Rd.

Moderate to high rates of spread in DIVs B and C to the west in the Deadline Ridge area.

Closure order remains in place - see related order and map.

Evacuation order remains in place through Sunday morning at 0800.
Planned Outlook
Planned Actions:
In DIV F, suppression resources will continue to provide structure protection within the Rock Creek drainage and actively working the fire's edge with aerial support as necessary. Resources will perform burnouts as necessary to check the fire spread. Bucket and scooper work will support ground resources along the west flank of the division to halt further fire spread to the west. Suppression resources assigned to DIVs A and B will actively engage the fire's edge with production of direct and/or indirect fire line to halt fire spread to the southwest and seek targets of opportunity. Crews will continue to mop up, monitor, and patrol in all other divisions.
Projected Incident Activity:
12 hours / 24 hours: The fire has the potential to continue to spread north and west along Rock Creek Road and in the vicinity of Wildland Urban Interface and agricultural infrastructure. Significant heat will remain along the fire perimeter in the Wahlstrom Hollow area of DIV F. The fire has the potential to continue spreading to the west in Winecup Creek an DIVs A and B.
Remarks:
The Badger Fire has three crews, 17 engines, five helicopters, six dozers, and 266 personnel.
Weather Synopsis
Weather Concerns:
Very minimal precipitation amounts of .01 to .15 inches was received on the fire last night. Winds shifted to the west at 10-15 m.p.h. behind the cold front. High pressure will build in Nevada on Sunday and result in a rise in temperatures.
Incident Contact
Incident Contact
Fire Information
Email: 2020.Badger@firenet.gov
Phone: 385-237-4598
Hours: 8:00 a.m. - 7:00 p.m.
Fire Unit Information
Sawtooth National Forest
U.S. Forest Service
370 American Ave.
Jerome, ID 83338