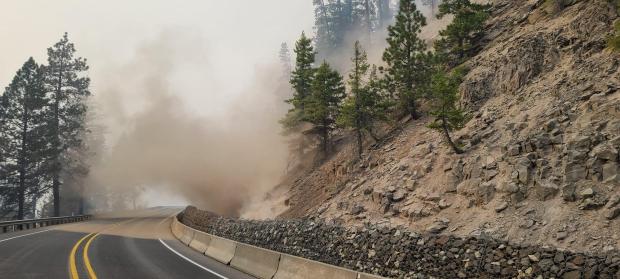 The Cold Creek Fire was discovered late Monday night (9/14/20) near Highway 12 approximately 30 miles west of Yakima, WA, and 6 miles east of the White Pass Summit on the Naches Ranger District of the Okanogan-Wenatchee National Forest. The fire is estimated at  626 acres and is burning in steep, timbered terrain. Firefighters have worked on the fire since it was discovered. SEWAIMT Team 2 arrived on scene Tuesday 9/15/20, to help with management of the incoming resources.  There is currently fire suppression activity 24 hours a day.
Rainfall in the past 24 hours caused a rapid rise in RH values across the landscape, however the large amount of down and dead fuel within the perimeter still contains a lot of heat. With the departure of the moisture system there is a warming trend coming into the area for the next 72 hours so concern for fire growth continues. The light winds and sunshine that cause the RH values to fall as the daily temperature rises create those conditions favorable for fire spread. Firefighters have taken advantage of the weather break to advance containment and hope to utilize air support to further meet those objectives. Advances have been made in clearing and protecting Hwy 12 in an effort to open the highway as soon as possible.
Basic Information
Incident Type:
Wildfire
Cause:
Under Investigation
Date of Origin:
Monday September 14th, 2020 approx. 08:30 PM
Location:
30 miles west of Yakima, WA, and 5 miles east of the White Pass Summit on the Naches Ranger District.
Incident Commander:
Leonard Johnson
Coordinates:
46.655, -121.286
Current Situation
Total Personnel:
261
Size (Acres):
626
Containment:
28%
Estimated Containment Date:
Thursday October 15th, 2020 approx. 12:00 AM
Fuels Involved:
Timber, brush, and snags
Significant Events:
Active fire behavior, uphill runs, backing, single tree and group torching.
Planned Outlook
Planned Actions:
1. Continue to establish and improve installed line on fire south of Highway 12 to limit acreage growth.
2. Install in-direct line on east portion of the fire north of Highway 12 and improve contingency line on
1308 road NE of Indian Creek outside of wilderness area.
3. Continue to monitor and evaluate tactics to engage fire west and north of Highway 12 in wilderness.
Projected Incident Activity:
Next 12 hours: Unsecured line on the W and NW creating rollout of debris that could spot across HWY 12
outside of established containment lines. Structures remained threatened on the east flank of the fire
that is north of HWY 12 until the line is secured and mopped up from recent burn out operation.
Weather Synopsis
Weather Concerns:
Ongoing drought causing low RH values in fuel models. Incoming weather system for tonight and tomorrow will bring increased winds with a slight chance of lightning with a low chance of a wetting rain. Wind gusts up to 15mph will stress containment lines on the eastern perimeter.
Incident Contact
Incident Contact
Cold Creek Fire Information
Phone: 509-761-4858
Hours: Mon-Sun
Fire Unit Information
Okanogan-Wenatchee National Forest
U.S. Forest Service
215 Melody Lane
Wenatchee, WA 98801
Dispatch Contact
Central Washington Interagency Center
| Wenatchee, WA
Phone:
509-884-3473
Website:
https://gacc.nifc.gov/nwcc/districts/CWICC