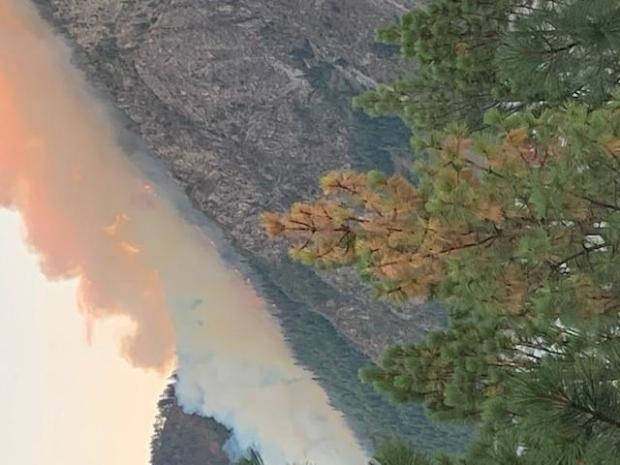 Tuesday, September 8, 2020, at approximately 8:30 AM, firefighters responded to a wildfire in the Mount Thielsen Wilderness. The fire began in the tree line near the Pacific Crest Trail within the Diamond Lake Ranger District. The east wind event caused the fire to run northwest and jump Highway 138 E. 

The Southern Area Incident Management Gray Team arrived Saturday, September 12, 2020 to transition command from local resources on the Umpqua National Forest. The Southern Area Incident Management Gold Team assumed command of the Thielsen Fire at 0700 on 9/15/2020. 

The spread potential for the fire is still high and firefighter safety remains a concern due to access to fire and steep terrain, including spread towards Cinnamon Butte. Crews plan to use direct attack where possible, using heavy equipment and firing as needed. 

Although smoke may limit daytime heating and wind strength, dry and breezy conditions are expected each afternoon over the next several days, with gusty south to southwest winds. Overnight recoveries should generally improve through the week.  The trough responsible for the breezy winds will slowly move onshore over the next few days, with chances for light precipitation increasing from west to east late this week, and a slight chance of thunderstorms on Thursday.

For more information, call 541-595-8227. 
Basic Information
Incident Type:
Wildfire
Cause:
Unknown
Date of Origin:
Tuesday September 08th, 2020 approx. 08:30 AM
Location:
5 miles north of Crater Lake National Park and within 1 mile of Diamond Lake Resort
Incident Commander:
Deborah Beard,IC
Marty Bentley, Deputy IC,
Dave Martin, IC Trainee
Incident Description:
Thielsen Wilderness Fire
Coordinates:
43.16, -122.07
Current Situation
Total Personnel:
329
Size (Acres):
9,995
Containment:
15%
Estimated Containment Date:
Wednesday September 30th, 2020 approx. 12:00 AM
Fuels Involved:
Timber (Litter and understory)
Timber (Grass and understory)
Brush (2 feet)
Moderate load shrub component, Lodgepole Pine and Douglas Fir timber with brush understory.
Significant Events:
Some isolated torching and uphill runs where slope and winds aligned.
Planned Outlook
Planned Actions:
Suppression resources will focus on direct attack where possible, point protection for critical
infrastructure, and securing and holding the southern edge of fire near the northern edge of Diamond Lake. Resources will secure and mop up along containment lines in Division W and A and along the
southwest side of Division M. Resources will secure Cinnamon Butte communications tower and improve the defense of structures around the tower. Retardant drops are scheduled for the protection
of the Lookout as soon as weather conditions allow. Indirect line construction will include heavy
equipment and potential firing operations as the fire behavior and weather permits.
Projected Incident Activity:
12 hours:

Good humidity recovery will cool and aid in reducing overnight spread.

24 hours:

On Friday, lower temperatures with higher humidity and forecast precipitation should stall fire behavior in the short term.

48 hours:

For Saturday, a gradual return to warm and dry conditions begins with minimal fire movement
expected this burning period

72 hours:

On Sunday, cold overnight temperatures and then a gradual return to warm and dry conditions
begins; moderate fire movement is expected this burning period.
Remarks:
The team is working with the local Resource Advisor to ensure sensitive areas are identified for protection.
Weather Synopsis
Weather Concerns:
Thursday: Overcast and smoky, with rain showers likely throughout the day. Temperatures 52-60, RH 55-65%, eye level winds W 2-3 mph and 20 foot winds W 5-7 mph. Gusty and erratic winds
expected near thunderstorms late in the morning.
Incident Contact
Incident Contact
Thielsen Fire Information
Email: 2020.Thielsen@firenet.gov
Phone: 541-595-8227
Hours: Su-Sa 8am-8pm
Fire Unit Information
Umpqua National Forest
U.S. Forest Service
Oregon
Roseburg, OR 97471