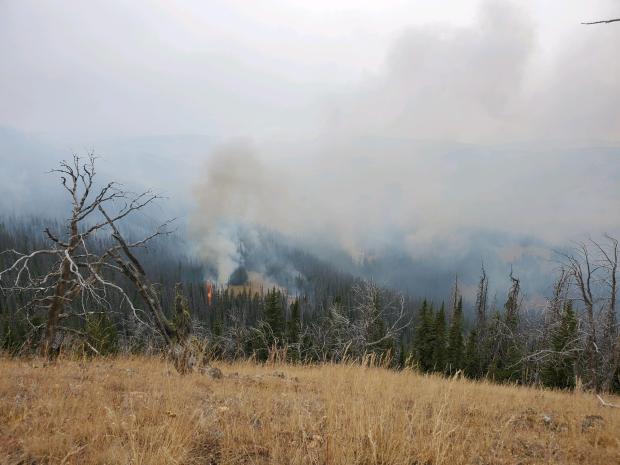 The Lobo Mesa Fire started September 12 at approximately 11:00 am between Cascade Mountain and Lobo Mesa in the southern Gravelly Mountains, in the head of the Cascade Drainage. The fire is approximately 150 acres and burning in a very remote area with poor access for firefighters.
The fire growth today is mostly due to more accurate mapping as well as encompassing a fair bit of unburned area with numerous very small spot fires, mostly on the northeast corner.  It is still roughly one-fourth mile from the Hell Roaring Drainage on the north side of the fire.  The south side of the fire has shown minimal fire behavior for two days now.  
 
Due to the moderate fire behavior and predicted moisture entering the fire area, this will be the last press release until significant activity occurs.
Basic Information
Incident Type:
Wildfire
Cause:
Unknown
Date of Origin:
Saturday September 12th, 2020 approx. 11:00 AM
Location:
Between Cascade Mountain and Lobo Mesa. 6 miles south of Black Butte in the Gravelly Mountains.
Incident Commander:
Wittenberg USFS
Coordinates:
44.802, -111.801
Current Situation
Total Personnel:
5
Size (Acres):
320
Fuels Involved:
Mixed conifer with a large number of beetle killed trees. Moderate component of dead/down trees.
Significant Events:
Two miles of the 6405 Lobo Mesa Trail have been temporarily closed. This section is from the 6506/6405 junction to the junction of 6420/6405. There are no area closures at this time.
Planned Outlook
Planned Actions:
Crews will continue to monitor the fire spread and activity, educate the public and respond to any new fire starts.
Projected Incident Activity:
Crews will continue to monitor fire spread and communicate and educate hunters and recreationists in the area.
Remarks:
No structures are threatened.
Weather Synopsis
Weather Concerns:
Moisture should move into the area today slowing any growth of the fire. Interior pockets of unburned fuel will continue to burn and smolder.
Incident Contact
Incident Contact
Madison Ranger District
Phone: (406) 682-4253
Hours: M-F 8:00-4:30
Fire Unit Information
Beaverhead-Deerlodge National Forest
U.S. Forest Service
420 Barrett St
Dillon, MT 59725