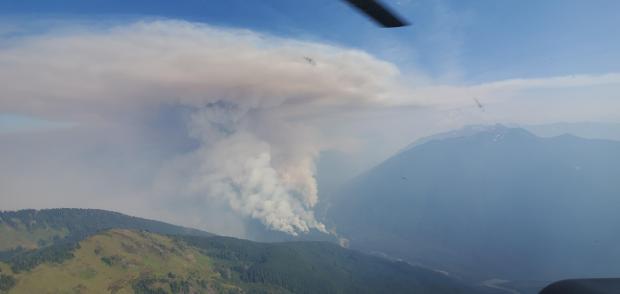 The Downey Creek Fire started on August 16, 2020 at 12:25 pm in the Glacier Peak Wilderness. The suspected cause of the fire is lightning. The fire is located approximately 17 miles from Darrington, Washington. Several trails and two campgrounds are closed as a result of the fire. The Downey Creek Fire Closure is in effect from September 11, 2020 until October 31, 2020, unless rescinded sooner.
Basic Information
Incident Type:
Wildfire
Cause:
Lightning
Date of Origin:
Sunday August 16th, 2020 approx. 12:30 PM
Location:
Downey Creek
Incident Commander:
Denny Coughlin, Type III IC
Incident Description:
The Downey Creek Fire Started On August 16, 2020 At 12:25 Pm In The Glacier Peak Wilderness.
The Suspected Cause Of The Fire Is Lightning. The Fire Is Located Approximately 17 Miles From
Darrington, Washington. Several Trails And Two Campgrounds Are Closed As A Result Of The Fire. The
Downey Creek Fire Closure Is In Effect From September 11, 2020 Until October 31, 2020, Unless
Rescinded Sooner.
Coordinates:
48.264, -121.21
Current Situation
Total Personnel:
20
Size (Acres):
2,570
Estimated Containment Date:
Saturday October 31st, 2020 approx. 08:00 AM
Fuels Involved:
Timber, brush
Significant Events:
Minimal growth occurred on the fire yesterday. The fire's southern boundary is Forest Road 26 and the Suiattle River. The fire remains established west to east from Downey Creek to one mile beyond the Suiattle Trail Head along the Suiattle Trail. The majority of the fire remains within the Glacier Peak Wilderness. Firefighters removed downed trees and fell fire weakened trees that were an imminent threat to Forest Service Road 26. The last two public vehicles that had remained in the closure area were retrieved by
their owners. The fire area had very limited visibility again today which nullified the opportunity for
aerial recon and mapping.
Planned Outlook
Planned Actions:
Planned Action: Continue to assess and monitor the fire. The Suiattle River Road (Forest Service Road
26) continues to be impacted by falling trees.
Projected Incident Activity:
Minimal fire growth is expected. Primarily creeping and smoldering.
Weather Synopsis
Weather Concerns:
General weather forecast for western Washington; no critical fire conditions
are expected for this week. There is a chance of showers for the region beginning tonight. General
weather forecast for Washington Zone 658: Mostly cloudy with smoke through the day. Chance of
showers with isolated thunderstorms through the day. Max temp 62-72 degrees, except on ridges
55-65 degrees. Minimum relative humidity is 70-85%. Valleys and lower slopes – southwest winds
around 3-6 mph. Ridges and upper slopes – west winds around 4-7 mph.
Incident Contact
Incident Contact
Darrington Ranger Distric
Email: SM.2020DowneyCR@usda.gov
Phone: 360-436-1155
Hours: M-F 8-4:30
Fire Unit Information
Mt. Baker-Snoqualmie National Forest
U.S. Forest Service
Washington
Everett, WA 98201