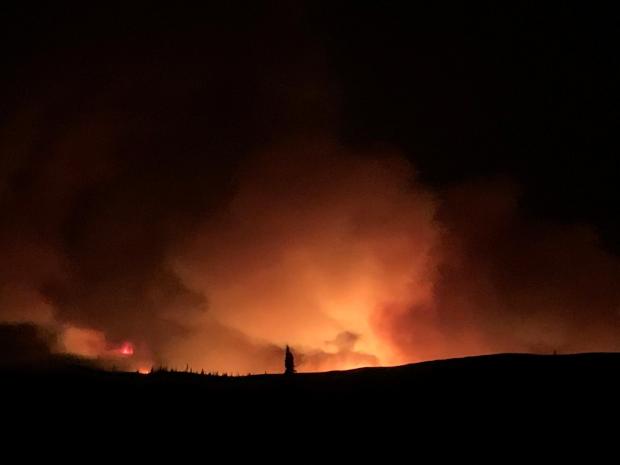 The Badger Fire is located on the Minidoka Ranger District 20 miles southwest of Oakley, ID. The fire started on September 12, 2020 near Badger Gulch off Forest Road 533 and 536.  High winds and critically dry fuels resulted in extreme fire behavior, including long range spotting and fire whirls, and caused the fire to grow rapidly.

This morning, September 18th,  Sam Hick's Type 2 Great Basin Team 5 assumed command of the fire.

An evacuation order is in place until further notice for the residents of Rock Creek Drainage Area and all residents are required to leave their homes ASAP.  The mandatory evacuation area covers the bottom half of Red Creek from Third Fork Drainage on the south and to Foothill Road on the north end in Twin Falls County.

Red Flag weather conditions are expected today with sustained and gusty southwest winds up to 35mph, low relative humidity and temperatures in the high 60's. A cold front is forecast to move into southern Idaho this evening and tomorrow bringing showers and thunderstorms and cooler temperatures to the fire area.  
Basic Information
Incident Type:
Wildfire
Cause:
Unknown
Date of Origin:
Saturday September 12th, 2020 approx. 05:19 PM
Location:
20 miles southwest of Oakley Idaho
Incident Commander:
Sam Hicks - Type 2 Team - Great Basin Team 5
Coordinates:
42.091, -114.169
Current Situation
Total Personnel:
286
Size (Acres):
42,444
Estimated Containment Date:
Saturday October 31st, 2020 approx. 12:00 AM
Fuels Involved:
Timber (Grass and Understory,
Heavy Logging Slash ,Beetle kill timber.

ERCs above the 97th percentile. 1,000-hour fuel moisture below 10 percent.
Significant Events:
Active fire behavior through the night with moderate ROS.

Extreme fire behavior during the afternoon with wind driven runs and high ROS.

Running fire to the north this afternoon has entered BLM and private lands.

Closure order remains in place - see related order and map.

Evacuation order remains in place - see attached order and map.

The temporary evacuation point at the Eastside Southern Baptist Church, located at 204 Eastland Drive North in Twin Falls will be closing at 9:00 p.m. tonight. Anyone needing Red Cross assistance after 9:00 p.m. can call 800-272-6668 or go to the Hilton Garden at 1741 Harrison St. N in Twin Falls. A Red Cross team will be there for most of the night. If you miss the team, call the 800 number.
Planned Outlook
Planned Actions:
Crews will scout identify, and construct primary direct and/or indirect line in DIV A to keep the fire north of Mahogany Butte.

In DIV B/C/F, crews will scout, identify, and construct primary and/or indirect line opportunities to keep the fire east of FSR 542 and FSR 541 and Deadline Ridge.

DIV K/O resources will scout, identify, and construct primary direct and/or indirect line opportunities to keep the fire south and west of Cottonwood Ridge and Rams Horn Ridge.
Projected Incident Activity:
12 hours and 24 hours: Fire is burning actively with multiple heads to the northwest and southwest, up Goose Creek Drainage, below Deadline Ridge. Continued significant fire spread towards recreational areas and has crossed to over the north end of Rock Creek Road to the west.
Remarks:
The Badger Fire has four crews, seventeen engines, five helicopters, and five dozers.
Weather Synopsis
Weather Concerns:
A cold front will enter the fire area producing unfavorable southwest winds with initial gusts that could exceed 35 m.p.h. in the afternoon.

Only a 4 percent chance of wetting rain. Haines Index of 6.
Incident Contact
Incident Contact
Fire Information
Email: 2020.Badger@firenet.gov
Phone: 385-237-4598
Hours: 8:00 a.m. - 7:00 p.m.
Fire Unit Information
Sawtooth National Forest
U.S. Forest Service
370 American Ave.
Jerome, ID 83338
Dispatch Contact
South Central Idaho Interagency Dispatch Center
| Twin Falls, ID
Phone:
208-886-2373
Website:
https://gacc.nifc.gov/gbcc/dispatch/id-scc/