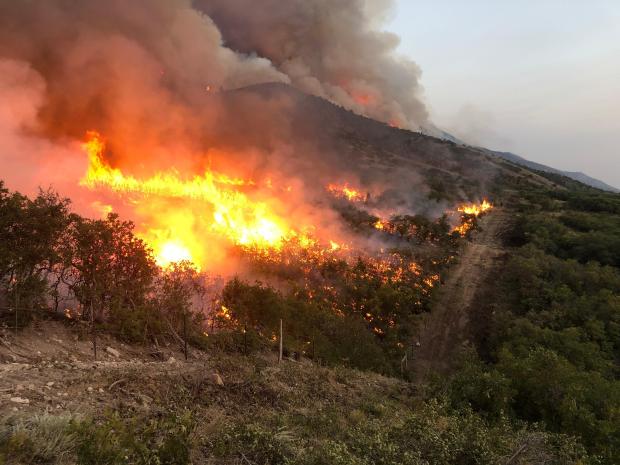 The William Fire started on September 6, 2020 at approximately 2 pm. The fire was caused by target shooting. Due to hot weather and strong winds the fire spread rapidly and doubled in size over a few days. Snow and rain moved into the area September 8, 2020 bringing cooler temperatures which dramatically decreased fire behavior.

Two suppression strategies are being implemented. The first approach is Full Suppression and the second is Confine Strategy. The dual approach will meet the objective of 100% full perimeter containment where fuels and terrain are favorable for successful suppression while providing for firefighter safety. All sections of the perimeter that can be safely accessed have been secured, accounting for the 49% containment. Management Action Points have been put in place to confine the remaining perimeter to the east and south.

Confine Strategy, as defined by the National Wildfire Coordinating Group (NWCG), "is to restrict a wildfire to a defined area, using a combination of natural and constructed barriers that will stop the spread of the fire under the prevailing and forecasted weather conditions until out." Helicopter bucket drops will be used as an action to suppress the Confine portions of the fire perimeter that firefighters cannot access. 

Firefighters continue to identify and implement control lines in strategic locations that will ensure the highest percent of success of a 100% full perimeter containment, while providing for firefighter safety. Firefighters are implementing actions that protect private, state and federal lands and utilities in the event that the fire advances beyond its current location. 

Great Basin Team 3 transfers command of the incident to Northern Utah Interagency Type 3 Team on Thursday, September 24, 2020. 
 
The public can expect to see smoke on the interior of the fire until the fire moves south or east to a location where firefighters can directly suppress the fire or until a season ending event of rain or snow in amounts that extinguish the fire.
 
There will no longer be regular daily updates unless there is something significant to report.  
Basic Information
Incident Type:
Wildfire
Cause:
Target Shooting
Date of Origin:
Sunday September 06th, 2020 approx. 01:48 PM
Location:
2 miles South of Santaquin Utah
Incident Commander:
Ron Bollier
Coordinates:
39.937, -111.779
Current Situation
Total Personnel:
267
Size (Acres):
5,832
Containment:
49%
Estimated Containment Date:
Monday September 28th, 2020 approx. 12:00 AM
Fuels Involved:
Chaparral(6 feet), Timber (litter and understory), Brush (2 feet)
Significant Events:
Minimal burning in the slop over resulting from rollout on steep terrain on the south flank of the fire. Minimal fire behavior in the form of smoldering, creeping and isolated torching in areas of containment burnout in heavy mountain brush, grass, juniper and mixed conifer.

Planned Outlook
Planned Actions:
Crews continue to patrol and secure threats to the line along the fire's edge. Mop up and secure burnout operations. Resources will start prep work for Management Action Points and verify adequate conditions for implementation. Observation of fire in the Wilderness continues via air resources and utilization of bucket drops as needed to secure the east line. Finalize Long Term Strategic Plan and return to local agencies.

Projected Incident Activity:
Continued low potential for impact to private properties and structures, energy infrastructures and I-15 and 132 corridor. Impact to Nebo Wilderness area and State and Federal wildlife habitat and cattle grazing areas expected to remain low. Continued high impact to watersheds and culinary water systems in the fire area.

Weather Synopsis
Weather Concerns:
Yesterday temperatures rose to the upper 80s with humidity down into the teens with south winds gusting around 18-20 mph on the fire.

Today will be a couple degrees cooler with humidity around 20% and winds gusting into the low 20s. A dry cold front is on the way for Thursday and Friday that will cause some stronger winds from the southwest and eventually from the northwest. Gusts 30 mph will be possible.
Incident Contact
Incident Contact
2020.William@firenet.gov
Email: 2020.William@firenet.gov
Phone: 1-435-414-9418
Fire Unit Information
Utah Division Forestry Fire State Lands
1594 W North Temple
Salt Lake City, UT 84114