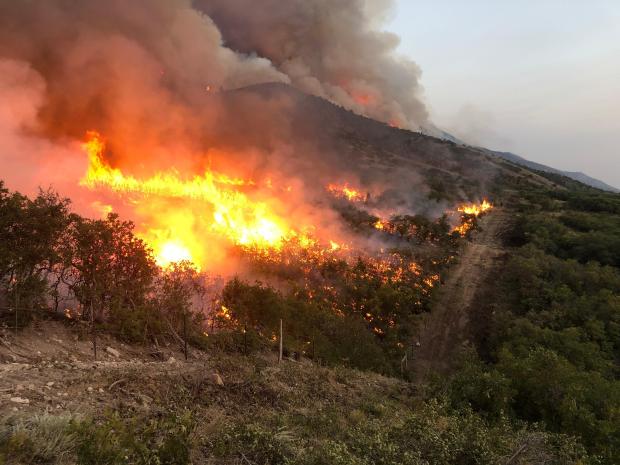 The William Fire started on September 6, 2020 at approximately 14:00. The fire was caused by target shooting. Due to hot weather and strong winds the fire spread rapidly and doubled in size over a few days. Snow and rain moved into the area September 8, 2020 bringing cooler temperatures which dramatically decreased fire behavior. As warmer and dryer weather conditions return fire behavior is expected to increase to moderate. The fire is being manged by Great Basin Team 3, a Type 2 incident management organization. 
Basic Information
Incident Type:
Wildfire
Cause:
Target Shooting
Date of Origin:
Sunday September 06th, 2020 approx. 01:48 PM
Location:
2 miles South of Santaquin Utah
Incident Commander:
Ron Bollier
Incident Description:
Expect Fire Activity In The 72 Hour Period To Become Minimal On The West, North And East Flanks As Seasonal Weather Conditions But Gusty Winds Persist Along With A Slight Chance Of Showers.
Coordinates:
39.937, -111.779
Current Situation
Total Personnel:
260
Size (Acres):
5,832
Containment:
62%
Estimated Containment Date:
Monday September 28th, 2020 approx. 12:00 AM
Fuels Involved:
Chaparral(6 feet), Timber (litter and understory), Brush (2 feet)
Significant Events:
Active burning in the slop over resulting from rollout on steep terrain on the south flank of the fire. Moderate fire behavior in the form of smoldering, flanking and uphill runs in area containment burnout in heavy mountain brush, grass, juniper and mixed conifer.

Planned Outlook
Planned Actions:
Crews continue to patrol and secure threats to the line along the fire's edge. Mop up and secure burnout operations. Resources will start prep work for Management Action Points and verify adequate conditions for implementation. Observation of fire in the Wilderness continues via air resources and utilization of bucket drops as needed to secure the east line. Finalize Long Term Strategic Plan.

Projected Incident Activity:
Weather Synopsis
Weather Concerns:
Yesterday humidity recoveries were very poor in the morning and there was a stalled out cold front in the vicinity of the fire. At the start of the shift the humidity was already below 20% with temperatures in the upper 60s. A Red Flag Warning was issued for the fire in the morning. Around noon the cold front had moved through and some showers began. There was only a trace of precipitation but winds shifted to the north and humidity jumped up quickly. Northerly winds gusted to 25 mph with the frontal passage. Maximum temperatures and minimum humidity all occurred before 0900.
Incident Contact
Incident Contact
2020.William@firenet.gov
Email: 2020.William@firenet.gov
Phone: 1-435-414-9418
Fire Unit Information
Utah Division Forestry Fire State Lands
1594 W North Temple
Salt Lake City, UT 84114