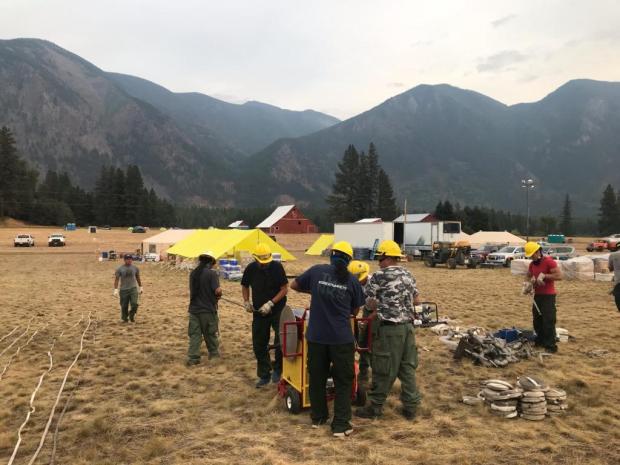 The Callahan Fire was detected on September 8, 2020 and is located on the Three Rivers Ranger District of the Kootenai National Forest in Bonner County, Idaho.
The fire started approximately 9 miles southwest of Troy, MT in the South Callahan Creek area, south of Smith Mountain. The fire is burning in steep, rocky ground in an early 1990's burn and is expanding into areas of continuous live and dead fuel, some of which has not had disturbance for approximately 70 years.
An emergency closure order is in effect for firefighter and public safety.  Closure Order D04-68-S-20: https://www.fs.usda.gov/Internet/FSE_DOCUMENTS/fseprd803759.pdf
Basic Information
Incident Type:
Wildfire
Cause:
Unknown/under Investigation
Date of Origin:
Tuesday September 08th, 2020 approx. 02:45 PM
Location:
Approx. 9 miles southwest of Troy, MT/ South Callahan Creek drainage/ South of Smith Mountain
Incident Commander:
John Thompson
Coordinates:
48.397, -116.089
Current Situation
Total Personnel:
211
Size (Acres):
1,276
Containment:
66%
Estimated Containment Date:
Saturday October 31st, 2020 approx. 12:00 AM
Fuels Involved:
Timber/Brush
Significant Events:
Minimal Fire Behavior, Creeping, Smoldering
Planned Outlook
Planned Actions:
Patrol in ongoing in 2 divisions and mop up is ongoing in 1 division.
Projected Incident Activity:
Additional wetting rains expected with continued cooler temperatures, minimal fire behavior expected.
Remarks:
Weather Synopsis
Weather Concerns:
Cool temperatures and gusty winds with additional precipitation is expected through Saturday.
Incident Contact
Incident Contact
Callahan Fire Information
Email: 2020.callahan@firenet.gov
Phone: 406-426-9130
Hours: 8 am - 8 pm Daily
Fire Unit Information
Kootenai National Forest
U.S. Forest Service
31374 US Hwy 2 Libby Montana 59923
Libby, MT 59923