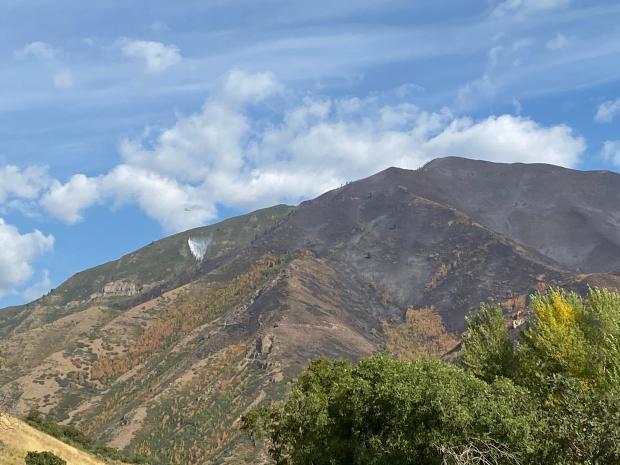 The Ether Hollow Fire started on September 7, 2020 at approximately 5:30 pm. The fire was caused by target shooting. Due to hot and dry conditions the fire was very active the first operational shift. Because of the urban interface multiple homes and families were initially impacted, no structures were damaged.

Great Basin Team 3 transitioned command of the fire to a local Type 4 incident management team on Tuesday September 22, 2020. 

Minimal smoke may be visible and can be expected until a season ending event with significant rain or snow. Interior pockets of vegetation may continue to smolder in the more remote areas of the fire that could not be safely accessed. 

There will no longer be regular daily updates unless there is something significant to report.  

Basic Information
Incident Type:
Wildfire
Cause:
Target Shooting
Date of Origin:
Monday September 07th, 2020 approx. 05:27 PM
Location:
Ether Canyon in Mapleton Utah
Incident Commander:
Ron Bollier Great Basin Team 3
Coordinates:
40.145, -111.55
Current Situation
Total Personnel:
20
Size (Acres):
849
Containment:
93%
Estimated Containment Date:
Sunday September 20th, 2020 approx. 12:00 AM
Fuels Involved:
Brush(2 feet) Short Grass(1 foot) Closed Timber Litter
Significant Events:
Few isolated heat sources remain.
Planned Outlook
Planned Actions:
The fire will remain in patrol and confinement status. Continue development of strategic plan including tactical options for parts of the fire that impact safety of firefighters due to extreme terrain. Remove hose lay along southern containment line.
Projected Incident Activity:
Expect fire activity in the 72-hour period to be minimal as seasonal weather conditions but gusty winds persist.
Weather Synopsis
Weather Concerns:
Yesterday the temperatures rose to the upper 70s with humidity down into the 20s and terrain driven winds.

Today the warming trend continues with temperatures in the mid 80s with humidity in the mid-teens. Southwest winds will start to increase on the ridges, but winds will mainly be terrain driven across the fire edge.
Incident Contact
Incident Contact
2020.William@firenet.gov
Email: 2020.William@firenet.gov
Phone: 1-435-414-9418
Hours: 8am-7pm
Fire Unit Information
Utah Division Forestry Fire State Lands
1594 W North Temple
Salt Lake City, UT 84114