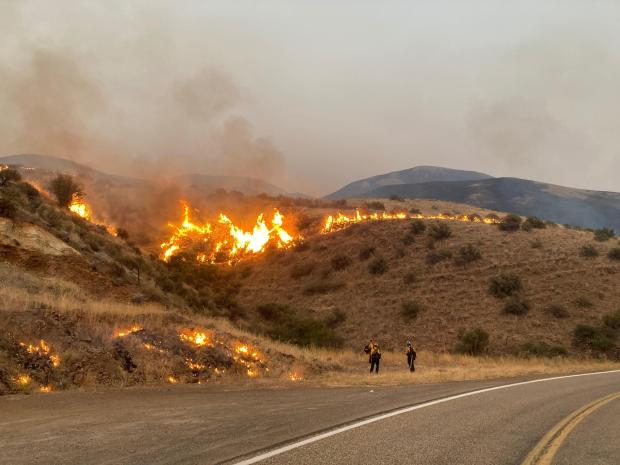 The Woodhead fire is located on the Weiser Ranger District – northwest of Cambridge, ID. The Woodhead Fire started on September 7, 2020, north of State Highway 71 near milepost 6. A cold front bringing strong sustained winds fanned the flames and it quickly grew to approximately 26,883 acres within first 48 hours. Great Basin Team #4, Incident Commander Tim Roide, took command on Thursday, September 10 to help manage the blaze. 
 
High winds, high temperatures, and low relative humidity caused the fire to grow an additional 20,000 acres on September 13, prompting additional evacuations and updated Forest Area Closure.  Since then, fire growth has mainly been to the north towards Wildhorse River and east towards Council-Cuprum Road.   
 
The closure on Highway 71 lifted September 14th to through traffic. All roads off Highway 71 remain closed. Firefighters continue to monitor the western side of the fire, which is almost fully contained. As the fire continues to grow, opportunities to use both natural and manmade features are constantly being evaluated for use.  
 
The fire has burned on lands managed by the Payette National Forest, Idaho Department of Lands, Boise District Bureau of Land Management, and private landowners.  
Basic Information
Incident Type:
Wildfire
Cause:
Unknown, Under Investigation
Date of Origin:
Monday September 07th, 2020 approx. 02:30 PM
Location:
20 miles northwest of Cambridge, ID
Incident Commander:
Great Basin Team #4, Tim Roide
Coordinates:
44.756, -116.877
Current Situation
Total Personnel:
354
Size (Acres):
93,307
Containment:
45%
Estimated Containment Date:
Wednesday October 07th, 2020 approx. 12:00 AM
Fuels Involved:
Valley bottom dominated by short grass and brush, with sagebrush and pockets of mountain mahogany. The upper elevations and side drainages are dominated by pine and fire with grass and brush in understory, especially on the cooler north slopes.
Significant Events:
Fire behavior was kept to moderate levels again due to a combination of helicopter bucket use, moderate humidity recovery, morning cloud cover and light winds. This limited fire behavior to groups of trees flaring up, flanking and short range spotting. Fire spread along the east and north flanks through surface fire with torching and spotting.
Planned Outlook
Planned Actions:
1) Remain prepared to defend structures in threatened subdivisions to the north and east if necessary.
2) Mop up and patrol the west and south.
3) Complete firing and hold the road and handline network to limit progression further north into the Crooked River, Ditch Creek, and Bear Subdivisions.
4) Continue to prep indirect line on the east utilizing crews and masticators and firing as necessary where the main perimeter nears the line.
5) Engage perimeter with crew and engines on northwest where directly threatening structures.
6) Maintain night shift to hold direct line, monitor fire progression, and patrol.

Projected Incident Activity:
12 hours:
Strong inversion will form overnight keeping relative humidity in the upper 30s to mid 40s allowing moderate fire spread into the overnight hours. Fire is spreading to the north and east primarily through heavy concentrations of dead and down fuels with occasional tree torching and short range spotting.

24 hours:
High winds and relative humidity in the mid 20s may increase fire behavior. Expect low to moderate surface spread rates in timber, especially in heavy dead and down loading with occasional group tree torching and short range spotting. Pine litter will
support surface fire, however grass and brush will not generally support surface spread unless pushed by winds.
Remarks:
Resources assigned include: 6 helicopters, 26 engines, 5 crews, 6 dozers,7 water tenders, and 1 masticator.
Weather Synopsis
Weather Concerns:
Stable air continued over the incident, with temperatures mainly in the mid 60s and low 70s and humidity above 25%.

An approaching cold front will increase winds on Wednesday with afternoon wind gusts up to 28 mph. However temperature and humidity will be about the same.

On Thursday, after the cold front passes, showers are expected with a more unstable atmosphere. Temperatures will drop into the 50s with higher humidity. Winds will decrease and shift to the west. Cloudy and cool weather continues beyond Friday.
Incident Contact
Incident Contact
Fire Information
Email: 2020.Woodhead@firenet.gov
Phone: 208-207-7417
Hours: 7 AM - 9 PM
Fire Unit Information
Payette National Forest
U.S. Forest Service
500 N Mission St
McCall, ID 83638
Dispatch Contact
Payette Interagency Dispatch Center
| McCall, ID
Phone:
208-634-2757
Website:
https://gacc.nifc.gov/gbcc/dispatch/id-pac/pac/index.php