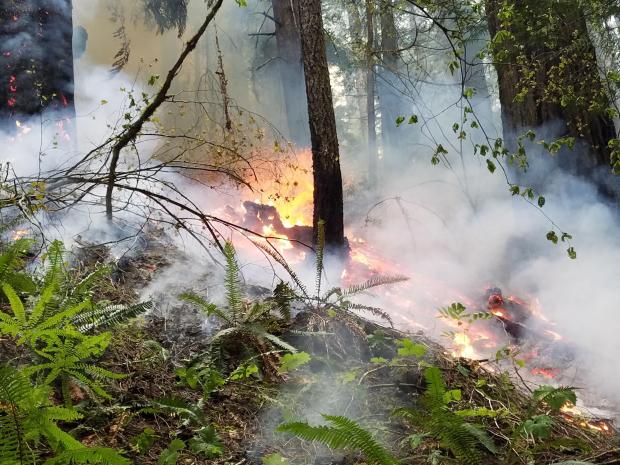 The Big Hollow fire is currently burning east and north of the Trapper Creek Wilderness on the Mt. Adams Ranger District.
The local area remains under threat of  wildfire, and firefighting resources are stretched thin across the region and nation. Due to these conditions, the Gifford Pinchot National Forest has implemented closure orders for the southwestern portions of the forest to ensure public safety near the Big Hollow Fire. This closure area includes developed campgrounds, dispersed camping, day use areas, wilderness areas, and all forest roads and trails within the area. If you have plans to be in this area of the forest, please consider making alternate arrangements.
Additionally, the Gifford Pinchot National Forest is currently at Industrial Fire Protection Level (IFPL) III.  Public use restrictions are also currently being developed for the Gifford Pinchot and will be put into place soon.
 
The cause of the fire is unknown.
Basic Information
Incident Type:
Wildfire
Cause:
Unknown
Date of Origin:
Tuesday September 08th, 2020 approx. 04:30 AM
Location:
15 miles NW of Carson Washington and 7 miles SE of Cougar Washington.
Incident Commander:
Jeff Dimke - IC
Bobby Shindelar - Deputy IC
Coordinates:
45.926, -121.979
Current Situation
Total Personnel:
251
Size (Acres):
24,788
Containment:
15%
Estimated Containment Date:
Saturday October 10th, 2020 approx. 10:00 AM
Fuels Involved:
Timber (Litter and Understory)
Closed Timber Litter
Medium Logging Slash
Significant Events:
Minimal
Creeping
Smoldering
Backing
The fire footprint has remained nearly static as a result of the precipitation. The few areas where the fire is spreading it is from creeping and also from burning materials rolling downhill.
Planned Outlook
Planned Actions:
Div-A/D: Patrol along FS roads 57 and 58. Continue improvement along FS Road 5407.

Div-J: Monitor fire location.

Div-M/P/R: Monitor fire progression in the Wind River drainage. Suppress fire reaching FS Road 30. Prep the 31 road system.

Div-W/Y: At Government Mineral Springs, monitor fire progression to the South. Provide Point protection around structures. Prep Trapper Creek trail as a confinement for backing fire.
Projected Incident Activity:
12 hours: Anticipate little fire growth due to affect of previous precipitation.
24 hours: Anticipate little fire growth due to affect of previous precipitation.
48 hours: Minimal fire growth although fine fuels on the southern aspect will start becoming available to allow fire spread.
Remarks:
Two Type 3 organizations (1 on the westside for DNR lands and 1 on the east side for National Forest lands) will assume command of the fire on Monday at 1800 hours.
Weather Synopsis
Weather Concerns:
The storm system from Friday moved out of the region today. Light showers were over the region for most of the day, especially along the west side of the fire where crews reported light rain just about all day. Temperatures were once again in the 50s and 60s. Relative humidity was 70 to 80% outside of the shower area and 80 to 100% in the areas that had showers.

Weak high pressure will be over the region Sunday. Temperatures will be mainly in the 60s and relative humidity will be 50 to 65%. There will likely be widespread fog through the morning. A weak disturbance will try to move through the weak ridge on Monday and may result in isolated light showers, otherwise Monday and Tuesday will be dry.

The next in a series of weather systems will move into the region on Wednesday. At this time it looks like this will usher in an extended period of cool and very wet weather to the region from Wednesday through at least Saturday.
Incident Contact
Incident Contact
Big Hollow Fire Information
Email: bighollowfireinfo@gmail.com
Phone: 971-333-8602
Hours: 630 AM- 10 PM
Fire Unit Information
Gifford Pinchot National Forest
U.S. Forest Service
1501 E. Evergreen Blvd.
Vancouver, WA 98682